First strike in Greece since Papademos took office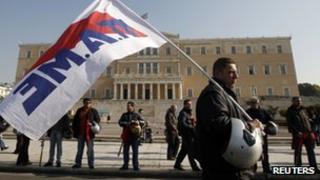 Unions in Greece are holding their first general strike in protest at austerity plans since technocrat Lucas Papademos took over as prime minister.
Public services shut down along with rail and ferry services but airports stayed open, as did the Athens metro and the city's stock exchange.
Trade unionists representing about half of Greece's workforce gathered for marches in the main cities.
Greece has seen about a dozen general strikes in the past two years.
Spending cuts and tax rises are being introduced as a condition of the country's 110bn-euro (£94bn; $147bn) international bailout last year, negotiated to prevent Greece going bankrupt.
Earlier this week, Mr Papademos secured the latest 8bn-euro tranche of the loans package.
The unelected former banker, who took office on 11 November at the head of a broad coalition government, has said his priority is to activate a second bailout worth 130bn euros.
'Starvation budget'
Waste collectors, teachers, doctors, journalists and bank employees were among those downing tools.
Christos Kiosis, a union chief at Athens water utility Eydap told NET TV: "Enough is enough.
"We have taken to the streets to say that this budget is an austerity budget - a starvation budget - which must not be passed."
"They are killing us," one demonstrator, 55-year-old Evangelos Routsas, told Reuters news agency in Athens.
"They are killing workers. They are killing the Greek spirit. We are here to tell them we won't be silent."
However, Thursday's 24-hour strike is expected to be smaller than a 48-hour action in October which degenerated into violence as rival groups clashed and police intervened.
Correspondents detected some weariness among the public after so many strikes.
"Unfortunately, my opinion is that they happen so often, almost on a daily basis, that they have lost their meaning," private sector worker Dmitris Papastathis told the Associated Press news agency in central Athens.
"All they do is make it hard for people to do their jobs. They could take place without bringing everything to a halt."
Mr Papademos, a former European Central Bank vice-president, was sworn in after his Socialist predecessor, George Papandreou, was ousted over his call for a referendum on the second bailout.