Belarus metro bomb: Two sentenced to death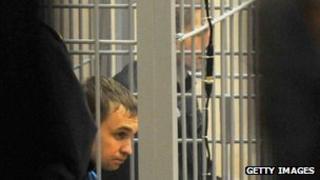 The supreme court in Belarus has sentenced two men to death for bombing the underground railway in the capital, Minsk, earlier this year.
The attack on 11 April killed 15 people and wounded hundreds of others.
Dmitry Konovalov, 25, was found guilty of carrying out the explosion and Vladislav Kovalyov, also 25, of assisting in "an act of terrorism".
The two men will be executed by shooting in the only nation in Europe still using capital punishment.
They were also found guilty of involvement in three earlier bomb attacks in 2005 and 2008, which together injured more than 100 people.
"The court believes that [they] pose an exceptional danger to society and thus require the ultimate punishment," the judge told the court.
'Barbaric' punishment
The Council of Europe has called on Belarus not to carry out the death sentence.
"The crime they were found guilty of was barbaric, but their punishment should not be the same," council secretary general Thorbjorn Jagland said.
"Belarus is the only country in Europe which still executes people and I would urge the authorities to introduce an immediate moratorium with a view to its ultimate abolition," he said.
"The victims of the 11 April attack and their families deserve justice, not revenge," Mr Jagland said.
Human rights groups have petitioned President Alexander Lukashenko's government not to execute the men.
They also raised questions over the evidence against the two men, saying it was not completely convincing.
Konovalov had admitted guilt at the start of the trial while Kovalyov recanted his testimony and told investigators that he heard his friend being beaten during interrogations.
'Explosive enthusiasts'
The sentence cannot be appealed but must still be signed by President Lukashenko.
But Mr Lukashenko had earlier said he wanted those responsible for the bombing to face the brunt of the law.
The two men were childhood friends and worked together at a factory in the city of Vitebsk.
Konovalov was accused of being the mastermind behind the attack.
Investigators said the bombers were explosive enthusiasts, and not members of a terrorist group.
They said the pair were driven by "hatred for humankind", not political motives.
The last executions carried out in Belarus were of two men in July this year after they were convicted of a triple murder in 2009.
Official figures are not released, but reports suggest nearly 300 people have been executed in Belarus since the collapse of the Soviet Union.
But the number of people put to death has dropped sharply since the 1990s, with less than 50 executed over the last 10 years.