Why Turkey is cautious over Syria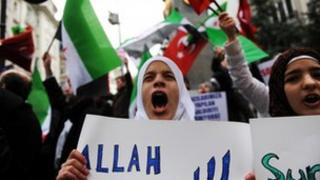 Turkey is now one of the harshest critics of President Bashar al-Assad's government in Syria.
This is in striking contrast to the warm personal relations established between Mr Assad and Turkey's leaders up until this year.
The Turkish prime minister has publicly called on Mr Assad to resign, warning that he was turning into a leader "who feeds on his people's blood".
Turkish actions, though, have been more cautious.
It has been two months since Prime Minister Recep Tayyip Erdogan promised to impose sanctions on Syria, but only now have they been announced.
They include a travel ban and the freezing of assets of those close to President Assad, severing relations with Syrian banks, and enforcing an arms embargo. In that, they mirror those imposed by the Arab League last week.
There are no broader trade sanctions - trade between the two countries rose to $2.4bn (£1.5bn, 1.78bn euro) last year - nor any measures that could harm ordinary people, like cutting electricity exports or restricting the flow of water from rivers originating in Turkey.
'Protected corridors'
None of this is surprising. The Turkish government has often expressed its scepticism about the effectiveness of sanctions, and Turkish businesses have lobbied hard against any measures that might hurt them. Trade with Syria is in any case drying up quickly.
The Syrian economy is at a standstill, and Turkish entrepreneurs fear that transporting goods into or through Syria is no longer safe. They are also concerned they may not get paid.
There has been a lot of talk about a possible "buffer zone" inside Syria, protected by Turkish troops. Turkish officials say it has been discussed, but would only be considered if the flow of Syrian refugees became an unmanageable flood, and if Turkey had international backing for such action, in the form of a UN resolution.
There has also been talk of "protected corridors" running from the Turkish border to troubled areas of Syria, like Idlib and Homs. But again, Turkish officials insist this is a hypothetical scenario, and no-one has explained how such corridors would be protected.
Co-ordinated response
What is clear is how closely Turkey is now co-ordinating its response to the crisis in Syria with other countries.
When the Arab uprisings started in January, Turkey often appeared to be acting alone, calling for President Mubarak to step down in Egypt before any other leaders; arguing strongly against any intervention in Libya; but then, in an about-turn, deciding to join the multinational operation supporting the Libya opposition movement.
On Syria, Turkish officials say, they found themselves in the forefront of President Assad's critics after August, when months of Turkish effort to persuade the Syrian leader to embrace reform collapsed in acrimony.
Mr Erdogan felt personally betrayed by what he saw as broken promises by Mr Assad, and outraged by the continued killing of protesters.
But, say those officials, Turkey is more comfortable letting the Arab League, of which Syria is a proud founder member, take the lead in putting pressure on Mr Assad. Turkey is consulting Arab League members very closely about tackling Syria, but is being careful not to move ahead of it.
French co-operation
There has been surprisingly good co-operation too with France.
Turkish-French relations had been very poor until this the middle of this year, due to President Nicolas Sarkozy's very public opposition to Turkey's EU aspirations, his comments about the slaughter of the Armenian population in 1915, and his hostility to Turkey's efforts to mediate in Libya. A visit by Mr Sarkozy to Turkey earlier this year - his first as president - was widely judged a diplomatic disaster.
But a more recent trip by Foreign Minister Alain Juppe has helped to smooth over their differences, and established common ground in their approach to Syria.
Both France and Turkey are leading sponsors of the main Syrian opposition group, the Syrian National Council, and both are working with SNC members to help prepare them for a transition.
Turkey also gives sanctuary to military defectors who have formed themselves into the Free Syrian Army, although it insists it does not allow FSA attacks to be launched from Turkish territory.
US ally
The United States too is fully supporting Turkey's role in Syria. It suits the Obama administration's back-seat approach to the Arab uprisings, to let a strong ally like Turkey do much of the leg-work in building the regional alliances needed to manage the Syrian crisis.
It must also be a source of some satisfaction in Washington to see the strains in Turkey's relations with Iran over Syria - Turkey's attempts to engage Iran over its nuclear programme last year independently of the US caused some alarm there.
For Turkey, the most pressing concern is the impact it will feel from whatever now happens in Syria.
They share their longest frontiers with each other, and a civil war in Syria could have unpleasant consequences for Turkey, from waves of refugees, to increased attacks by Kurdish insurgents based over the border.
Turkish officials say they have given up hope that President Assad can be part of a solution, but they are pressing the various opposition groups to take care not to allow the violence to escalate into a sectarian conflict.