Turkey attack: Gunman killed at Istanbul palace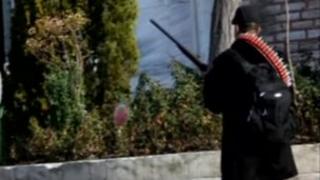 An armed man who wounded two people has been shot dead at Topkapi Palace in the Turkish city, Istanbul.
The man, carrying at least two shotguns and wearing an ammunition belt, entered the palace complex and opened fire on security guards.
Exchanges of fire could be heard for some time before police told Turkish media that the gunman had been killed.
Turkish Interior Minister Idris Naim Sahin was quoted as saying the gunman was a Libyan national aged 36.
The man had apparently entered Turkey on Sunday.
According to TV reports, he had shouted "God is great" in Arabic before opening fire.
"With his weapon he began to fire everywhere," Istanbul police chief Huseyin Capkin said.
The motive for the shooting is unclear although the Turkish government gave its backing to the uprising against Colonel Muammar Gaddafi after initially rejecting the idea of a Nato-led intervention in Libya.
Topkapi Palace, one of Istanbul's main tourist destinations, was once home to the Ottoman sultans and reports say a coachload of tourists had arrived at the scene as the incident was taking place.