Russia inquiry: Lugovoi 'a victim' in Litvinenko case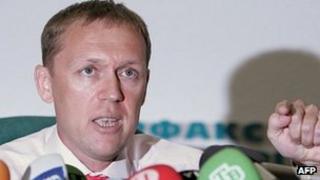 Russian officials say Andrei Lugovoi, the man accused by UK authorities of killing ex-spy Alexander Litvinenko, was himself a victim of attempted murder with radioactive polonium-210.
The poisoning of Mr Lugovoi with polonium-210 was "confirmed", Russian state investigators said.
It happened when he met Mr Litvinenko in London in October-November 2006, according to the statement.
Russia has refused to extradite Mr Lugovoi to the UK.
Mr Lugovoi, an ex-KGB officer and Russian government bodyguard, now has immunity from prosecution as a Russian MP. He is running for re-election as a member of the nationalist Liberal Democratic Party (LDPR).
Russian investigators have now decided to merge an inquiry into the alleged attempted murder of Mr Lugovoi with the Litvinenko case.
Mr Lugovoi denies the UK allegations that he killed Mr Litvinenko, who died after drinking poisoned tea at a West End hotel with him and another ex-spy, Dmitry Kovtun.
According to Alexei Mukhin, a Russian political analyst quoted by RIA Novosti news agency, the alleged murder attempt against Mr Lugovoi is just "a thoroughly planned PR campaign" devised to benefit him politically.
Mr Litvinenko, 43, died at London's University College Hospital on 23 November 2006, three weeks after the meeting with Mr Lugovoi and Mr Kovtun.