Neo-Nazi hunt: German police arrest man in Jena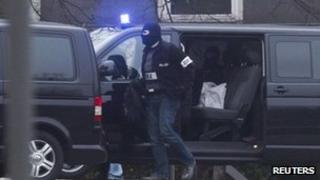 German police investigating a neo-Nazi cell accused of killing 10 people have arrested another suspected accomplice.
The suspect, identified by German media as Ralf Wohlleben, 36, was detained in the eastern city of Jena.
Prosecutors said the man was "strongly suspected of being an accessory" in six murders and one attempted murder.
Four people have been arrested as part of the investigation into the "National Socialist Underground" (NSU) which attacked ethnic Turks and Greeks.
The NSU is thought to have had three members, two of whom were found dead in a caravan earlier this month.
Uwe Mundlos, 38, and Uwe Boenhardt, 34, had shared a house with the third suspected member of the cell, Beate Zschaepe, who handed herself into police.
A man identified as Andre E has since been arrested on suspicion of making a video in 2007 detailing the group's part in the killings. Another man, Holger G, suspected of providing support to the group, was detained earlier in Hanover.
The latest suspect to be detained, Ralf Wohlleben, is described by German media as a former official in the extreme-right NPD party and active in extreme right circles in the eastern state of Thuringia in the 1990s.
He was taken on Tuesday in a convoy of police cars to the German federal supreme court in Karlsruhe.
The NSU is thought to have killed eight ethnic Turks and a Greek between 2000 and 2006 and a policewoman in 2007.
It has also been linked to a string of bank robberies as well as a bomb attack which left more than 20 people wounded in Cologne.