Norway massacre: Court given Breivik psychiatric report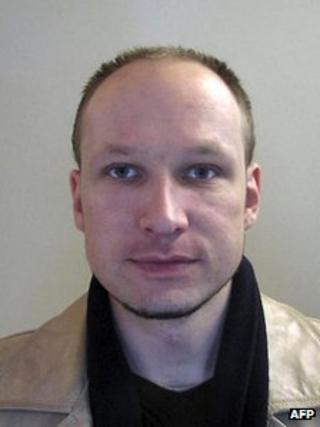 Psychiatrists in Norway have submitted their assessment of whether Anders Behring Breivik was sane at the time he killed 77 people last July.
Their 230-page report - said to be based on 13 conversations with Breivik - was delivered to a court in Oslo.
One of the psychiatrists said the report drew a "clear conclusion" of his mental state but did not give details.
Breivik has admitted the attacks in Oslo and on Utoeya island, but has pleaded not guilty to terror charges.
The 32-year-old is due to stand trial on 16 April.
If declared sane, he could face a maximum jail term of 21 years, which could be extended if he is still deemed a threat to society.
However, he could escape a prison sentence - and be detained in psychiatric care - if found to be mentally unfit.
Delivering the report at the courthouse on Tuesday, psychiatrist Torgeir Husby told reporters: "We have no doubt when it comes to our conclusions."
He did not reveal what their conclusions are, but the prosecutor's office is expected to give a news conference on the report later.
Mr Husby said Breivik had "co-operated well" during the interviews at the high-security Ila prison near Oslo where he is being held.
"It was a lot of work, demanding," he told reporters. He has previously said it was the most comprehensive report he had ever dealt with.
'Clear criteria'
Breivik has admitted carrying out the twin attacks on 22 July that also injured 151 people and traumatised the nation.
He disguised himself as a police officer to plant a car bomb that exploded close to government offices in the capital Oslo, killing eight people.
Still in uniform, he then drove to the island of Utoeya, where a summer youth camp of Norway's governing Labour Party was being held.
In a shooting spree that lasted more than an hour, he killed 69 people - mostly teenagers.
Breivik said his actions had been "necessary". In a manifesto he published online, he said he was fighting to defend Europe from a Muslim invasion, which was being enabled by what he called "cultural Marxists" in Norway's Labour Party, and the European Union.
His lawyer Geir Lippestad has said his client was probably "insane", although later said he regretted the expression preferring to say Breivik had "his own perception of reality".
Forensic psychologist Pal Grondahl said there are clear criteria to be met before someone can be considered criminally insane - and few qualify.
"Statistically, 330 such forensic statements were issued last year. Four out of five of these ruled that the person was criminally sane. Only every fifth person is thus seen as criminally insane. So the bar is high."