'Conspiracy' claims bolster DSK mystery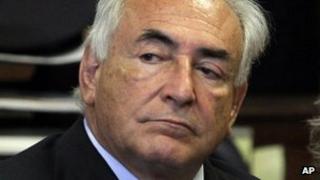 Dominique Strauss-Kahn is no longer a front-runner in the French presidential race. His political career is finished.
But the events in the New York Sofitel in May this year still enthral the French media - particularly when there is a suggestion of a conspiracy.
Mr Strauss-Kahn, formerly head of the International Monetary Fund and familiarly known as DSK, has admitted to a sexual encounter with maid Nafissatou Diallo.
The DNA evidence put forward by the prosecution was indisputable. The latest evidence shows that whatever did happen was brief - lasting no more than six minutes.
His supporters have now leapt on an account of the events by US journalist Edward Epstein, published in the New York Review of Books, that alleges that his mobile phone may have been hacked.
But their suggestion of a plot, denied adamantly by President Nicolas Sarkozy's UMP party, raises more questions than it answers.
Perhaps the most important of these is: Why would the president or his staff need to engage themselves in such a sordid plot to bring down DSK?
To mount an operation of the kind being alleged would not only be risky, but politically suicidal had it gone wrong. According to press reports, ammunition from police files was available to presidential aides, should they have wished to derail DSK's presidential bid.
French media in recent months have suggested that some officials knew enough about Mr Strauss-Kahn's private life to embarrass him.
'Fantasy'
The timing does not make sense either.
Why would the French president's office seek to destroy DSK "before" he officially entered the race? He was favourite in the polls, but surely the time to stage such a "plot" would be after the Socialist primaries.
His arrest in May gave the man who eventually became the Socialist candidate, Francois Hollande, plenty of time to pick up the pieces. And he is now as much a favourite as DSK, arguably harder to beat.
"It is complete fantasy!" said Claude Gueant, the French Interior Minister, formerly the president's chief of staff.
"I read the article," said the minister. "What is the point? So DSK lost his phone. Just because he lost his phone, it doesn't mean there is conspiracy.
"If someone believes that there is a plot, then they should file a complaint."
That is what supporters of Mr Strauss-Kahn are urging his legal team to do.
As yet the lawyer for DSK, Frederique Baulieu, said no action was planned.
Mr Epstein says he was given access to the Sofitel electronic key swipe records, time-stamped security camera videotapes and records for a mobile phone used on 14 May by John Sheehan, a security employee of Accor, the French company that owns the Sofitel hotel.
Mr Strauss-Kahn had received a text message from Paris that morning, from a female friend temporarily working as a researcher with Mr Sarkozy's right-wing UMP party. The message, that an email to his wife sent from his BlackBerry had been read at the UMP office in Paris, worried him so much that reportedly he called his wife, Anne Sinclair, and asked her to have it examined by an expert on his return to Paris
The article claims his phone never left the hotel, but its GPS system was disabled at 12:51, soon after Mr Strauss-Kahn left for lunch with his daughter
The security cameras show Ms Diallo re-entered Mr Strauss-Kahn's room after the sexual encounter
Mr Sheehan sent two text messages before DSK's arrest - one to Brian Yearwood, director of engineering at the hotel and another to an unknown recipient
The footage from the two surveillance cameras shows that after the 911 call had been placed, Mr Yearwood walks from the security office with an unknown man to an adjacent area, where the two men high-five each other. Mr Epstein describes it as an "extraordinary dance of celebration"
The two employees in question "categorically deny their exchange had any link whatsoever with Mr Strauss-Kahn" - rather that they were "celebrating" the fact that their team had won a game.
Accor said the dance lasted only eight seconds - not the three minutes alleged in the article. Mr Epstein says he will publish the video on Tuesday should Accor refuse to do so.
In France, the Accor group received a phone call at 21:45 - an hour before DSK was arrested on board the Air France flight bound for Paris. Accor's security chief at the time, Rene-Georges Querry, alerted Ange Mancini, the national co-ordinator of intelligence at the Elysee Palace.
The two men knew each other well. Mr Querry denied categorically there was any plot: "It is absolute fantasy," he said.
One might question if there had been such a complicated plot, whether Accor would have been complicit.
Moreover, if they had, would they have left the operation to a comparatively lowly employee in New York?
It is not entirely surprising - given the profile of the man about to be arrested - that the French authorities had to be alerted. Particularly since he was on a flight bound for Paris.
In the end, there is plenty of mystery - in the story of Nafissatou Diallo, in the version given by DSK and in the events that followed.
It is likely the questions Mr Epstein raises will be pored over in the forthcoming civil case in New York.
In Paris, I imagine both mainstream parties would prefer the story to go away.
For Mr Hollande, who is favourite to win the election next spring, the conspiracy does nothing to further his campaign. He is already in front.
For Mr Sarkozy, playing catch up in the polls, it may be fantasy, it may be conspiracy - it is certainly something he could do without.