Norway massacre: Tape of Breivik call to police aired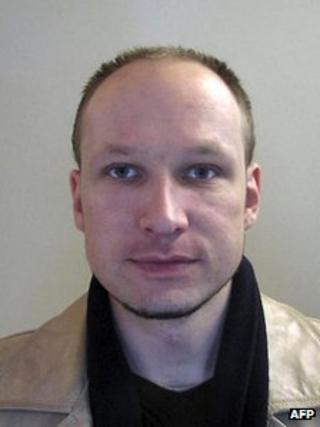 Norwegians have for the first time heard the voice of self-confessed mass killer Anders Behring Breivik after his first call to police was broadcast.
Introducing himself as a "Norwegian anti-communist resistance commander", he says he wants to surrender, but hangs up when asked to give his number.
After the call, he resumed shooting people at the island summer camp of Norway's ruling Labour Party.
Breivik killed 77 people and injured 151 in the attacks on 22 July.
The carnage, which he sought to justify as "necessary" for the salvation of Norway and Europe from Muslims and multiculturalism, traumatised the nation.
He is due to go on trial on 16 April, pending psychiatric tests.
'Operation over'
Breivik has admitted that, disguised as a police officer, he planted a car bomb that exploded close to government offices in the capital Oslo, killing eight people.
He then drove to the island of Utoeya, where the summer camp was being held, and shot dead 69 people, most of them teenagers.
It was from Utoeya he made his calls to emergency services.
In his first call at 18:00 local time, which lasts just a few seconds, he gives his name and says he is calling from Utoeya and wants to surrender, without explaining why.
He hangs up when police ask for his phone number.
At 18:26, after further shooting, he calls back to say he has completed his "operation" and wants to surrender. Only a transcript of that call is available.
A recording of the first call was broadcast by Norwegian commercial TV channel TV 2 on Tuesday.
Speaking to TV 2, lawyer John Christian Elden, who represents Breivik victims, said people affected by the attack would not have been "very happy to hear his voice broadcast into their living rooms".
Breivik's lawyer, Geir Lippestad, said it was difficult to understand why his client had continued shooting after offering to surrender in the first call.