Russia sets March date for presidential elections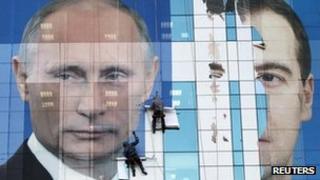 The upper house of Russia's parliament has set 4 March 2012 as the date for the presidential election.
In line with the law, election campaigning will begin immediately, said local news agencies.
Former President Vladimir Putin is the overwhelming favourite, observers say.
He was constitutionally barred from standing for a third consecutive term in 2008 and was succeeded by Dmitry Medvedev, while he became prime minister.
Mr Medvedev agreed to switch roles with Mr Putin at the United Russia annual party congress in September.
Should he win, Mr Putin could also enjoy an increased stay in office, after a constitutional amendment in 2008 lengthened the presidential term from four to six years from 2012.
Mr Putin's backers say he offers stability, but liberal opponents accuse him of authoritarianism.
Russians will vote in parliamentary elections on 4 December, with United Russia party also the frontrunner.