Afghan police trainees cost Dutch '500,000 euros each'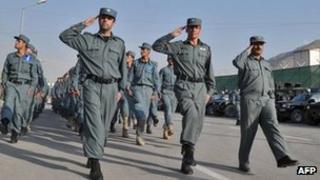 The cost to the Netherlands of training Afghan police this year is more than 500,000 euros (£430,000; $670,000) per officer, a Dutch newspaper reports.
De Volkskrant cited figures from the Dutch defence ministry and Afghan police showing a 2011 budget of 105m euros to train 189 police officers.
Similar sums have been allocated over the next three years to the training mission in Kunduz, north Afghanistan.
Costs include security for the 225 Dutch trainers deployed.
The Netherlands has made a commitment to training Afghan police officers since ending its official military peacekeeping role last year.
Nato trainers spend about $3.5bn on Afghan police training annually, according to a report to the UK's House of Lords earlier this year.
The police force, which currently numbers about 130,000, has been widely criticised for its inefficiency, suffering from poor discipline and morale, and basic handicaps such as illiteracy.
'True bill unknown'
In July, Dutch trainers began their mission in Kunduz, protected by a military contingent which includes four F-16 combat jets.
Afghan sources told De Volkskrant that police trainees had spent just 12 hours in the classroom but Dutch defence sources pointed out that trainers spent time on patrol with the recruits.
While the 2011 budget includes start-up costs, the 2012 and 2013 budgets are both set at 109m euros, and that for 2014 - 94m.
The Netherlands has a total of 545 personnel deployed in Afghanistan, most of them in Kunduz.
Speaking to De Volkskrant, Ko Colijn, director of the Netherlands Institute of International Relations (Clingendael), said the true bill for the training mission would not be known until the mission ended.
However, he suggested it was "no higher than that for other countries".
He pointed out that the mission was important to the Netherlands' reputation for upholding the rule of law internationally