German police make third arrest in neo-Nazi hunt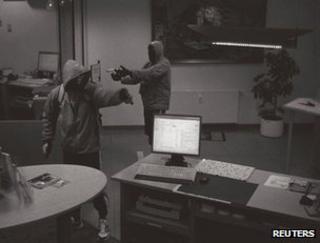 Police in Germany have made a third arrest in their inquiry into a neo-Nazi cell believed to have killed 10 people, most of them Turks, over a decade.
Members of the elite GSG9 anti-terror unit detained a 32-year-old man in the eastern city of Potsdam, where four homes were searched, prosecutors said.
He is suspected of "supporting a terrorist network", they added.
Politicians have united to condemn the murders and ask why the security services failed to stop them.
Eight Turks, a Greek and a policewoman were killed.
Their suspected killers were only discovered this month when two members of the little-known National Socialist Underground (NSU) were found dead, and two other people were subsequently arrested.
Prosecutors said the man detained in Potsdam, named only as Andre E, had had close contact with NSU members since 2003 and was suspected of making a video in 2007 in which the militants say they carried out the killings.
He was due to appear in court on Thursday.
The DVD was found after the bodies of Uwe Mundlos, 38, and Uwe Boenhardt, 34, were discovered in a caravan in Eisenach in eastern Germany earlier this month.
Beate Zschaepe, 36, who had shared a house with the two men, handed herself in and was charged with membership of a terrorist organisation. Police later arrested another, male suspect.
Detectives are reopening all unsolved cases stretching back to 1998 in which racist motives could have played a part.
The NSU is also suspected of carrying out a bomb attack in Cologne, in which 23 people were wounded, and a number of bank robberies.