Lord Patten says BBC NI 'sheltered' from brunt of cuts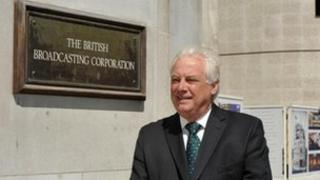 The chairman of the BBC Trust Lord Patten has said he believes BBC Northern Ireland has been sheltered from some of the toughest budget cuts made by the corporation.
The broadcaster will make £670m in savings over the next five years.
In Northern Ireland, there will be between 50-70 job losses and there is a proposal to close Radio Ulster at midnight.
But Lord Patten said BBC NI had escaped the brunt of the cuts.
"Northern Ireland is doing better than a lot of other parts of the United Kingdom," he said.
"The changes in the budget here are smaller than elsewhere. Now that partly reflects what Northern Ireland has already done with efficiencies and productivity.
"It has been a very good story over the past few years.
"So to some extent Northern Ireland has been sheltered from some of the toughest choices."
'Convincing'
The Trust, which represents the views of licence-payers, has launched a public consultation on the BBC's plans to cut costs by 20%.
Last month Director General Mark Thompson unveiled details of the savings - branded Delivering Quality First (DQF) - in an address to staff.
"I think the proposals put forward are pretty sensible, but if a convincing case can be made against them, then we will listen to that," said Lord Patten.
He said he believed the BBC could continue to do a "fantastic job" on a reduced budget of £3.5bn.
"They (licence-payers) have until 21 December to let us have their views. The role of local radio has attracted the most interest so far," he added.
"We have until next year to come forward with a sensible package on what people have said."