German MPs unite against murders blamed on neo-Nazis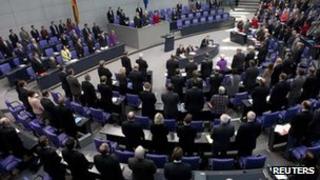 Parliament in Germany has united to express its shame at the failure of security services to stop a neo-Nazi cell accused of 10 murders.
MPs from across the political divide rose to their feet in the Bundestag to hear the speaker, Norbert Lammert, condemn the handling of the crimes.
The 10 victims - eight Turks, a Greek and a German policewoman - were killed over a decade.
Their suspected killers were only discovered this month.
Two members of the "National Socialist Underground" had committed suicide while two other people were arrested in connection with the crimes.
Chancellor Angela Merkel has already called the case a national disgrace, asking how the cell could have remained undetected for so long.
DVD confession
Mr Lammert told parliament: "We're ashamed that the federal and state [regional] security agencies were not able to either stop or detect the crimes that were planned and carried out over a period of several years...
"We've got to make sure that everyone who lives here in Germany - regardless of their origins, religious beliefs or orientation - can have the same constitutionally guaranteed protections."
The six parties in parliament observed a moment's silence, and adopted unanimously a resolution expressing commiseration and demanding structural changes at agencies.
Uwe Mundlos, 38, and Uwe Boenhardt, 34, were found dead earlier this month in a caravan in Eisenach in eastern Germany.
They had left behind a DVD in which they admitted to the 10 killings.
Beate Zschaepe, 36, who had shared a house with the two men, was charged with membership of a terrorist organisation after she handed herself in.
Two other people are suspected of helping the group.
'Personal connection'
Detectives are reopening all unsolved cases stretching back to 1998 in which racist motives could have played a part.
The alleged neo-Nazi cell is also suspected of carrying out a bomb attack in Cologne, in which 23 people were wounded, and a number of bank robberies.
In another development, the head of Germany's federal police, Joerg Ziercke, said an investigation was under way into the possibility that the suspects had personally known Michele Kiesewetter, the policewoman killed in 2007.
Ms Zschaepe may have worked in a restaurant for Ms Kiesewetter's stepfather, the police chief said, adding that the motive for the murder was still unclear.