Strauss-Kahn sues over breach of privacy on sex reports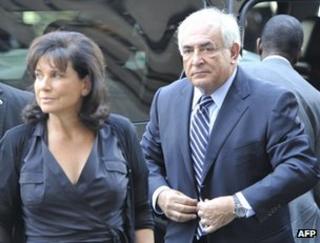 Former IMF chief Dominique Strauss-Kahn and his wife are suing a French presidential aide and media outlets for breach of privacy.
Their lawyers announced the move after reports, citing leaks from an investigation, linked Mr Strauss-Kahn to an illegal luxury prostitution ring.
Henri Guaino, aide to President Nicolas Sarkozy, referred on TV to a "zone where private life meets criminality".
It is unclear if Mr Strauss-Kahn will face charges in the prostitution case.
He returned to France from the US in September after American prosecutors dropped attempted rape charges over an incident in May with a hotel chambermaid in New York.
That case, which saw him jailed and then confined to house arrest, led to his resignation from the IMF. He still faces a civil suit brought by the maid involved.
An inquiry into an alleged attempted rape in France was dropped in August.
Since then the prostitution ring allegations, which date back to Mr Strauss-Kahn's time at the IMF, have emerged.
Arrests
Mr Strauss-Kahn's name was mentioned in connection with a call-girl ring in the northern French city of Lille, known as the Carlton affair after the name of the hotel where clients were allegedly supplied with prostitutes.
The affair led to the arrests of several leading figures in the city, including businessmen and police chiefs.
On Tuesday, lawyers for Mr Strauss-Kahn and his wife said they were suing Mr Guaino.
They were also serving writs on the daily newspaper Le Figaro and the weekly magazines L'Express, Nouvel Observateur, Paris Match and VSD.
Mr Strauss-Kahn, 62, has demanded to be questioned by the judges and has called for an investigation into the leaks.