Turkish journalists on trial for 'anti-government plot'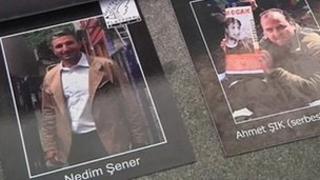 Two prominent Turkish journalists have gone on trial accused of involvement in a plot to topple the government.
Ahmet Sik and Nedim Sener are accused of being part of Ergenekon, allegedly a secret military-backed organisation.
They are among thirteen defendants, who include writer Yalcin Kucuk - a staunch government critic.
Their supporters say the trial is based on fabricated evidence and aims to silence government opponents.
Media freedom
The government insists the pair are not being prosecuted for their writings, but for alleged criminal activity.
The case is being seen as a test of Turkish media freedom.
Tuesday's trial was adjourned after four hours to wait for a ruling by a higher court on whether to replace the presiding judge.
Defence lawyers argue that the judge could not be impartial because he took part in the murder case of ethnic Armenian journalist Hrant Dink. Nedim Sener won a press freedom award for a book about the murder.
The court said it would decide whether to release the suspects from jail when it returned on 26 December.
The case has sharply divided opinion in Turkey, says our correspondent in Istanbul, Jonathan Head.
He says the Turkish government's human rights record is coming under uncomfortable international scrutiny at a time when it is actively promoting democratic values in the rest of the Muslim world.
Outside the court, journalists unfurled a banner in support of their colleagues calling for their release.