Tajikistan releases Russian and Estonian pilots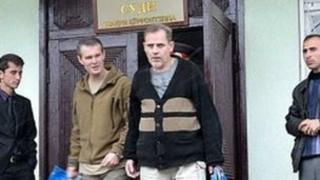 A Tajik court has freed a Russian and an Estonian pilot whose jailing this month led to a major row with Moscow.
Russia's Vladimir Sadovnichy and Alexei Rudenko from Estonia were jailed for eight-and-a-half years for smuggling and illegally crossing the border.
But the men, who both denied the charges, have now been released at the request of the prosecutor and following heavy pressure from the Kremlin.
Many Tajik migrants were rounded up in Moscow after the initial guilty ruling.
And in another, apparently tit-for-tat, move, Russia's chief medical officer last week expressed concern about whether ethnic Tajik workers in Russia were carrying the HIV virus that causes Aids.
Migrant work in Russia is a vital source of income for many nationals from Tajikistan, the poorest former Soviet Republic.
Amnesty applied
The result of Russia's pressure was that on Tuesday Tajik prosecutors returned to the court in the southern town of Kurgan-Tyube and asked the judges to reduce the pilots' original terms to two-and-a-half years.
The prosecutors were also urged to apply a new amnesty law to shorten the sentences by a further two years.
The judge agreed and the result was that the two pilots were released from court immediately because of the time they had already spent in jail.
Moscow earlier condemned the jailing of the pilots, saying the verdict was politically-motivated.
The pilots were detained on 12 March after landing their An-72 cargo planes at Kurgan-Tyube airport.
They were flying back to Russia from the Afghan capital, Kabul, where their company, Rolkan Investments, had been working for the Afghan government, delivering aid from Russia.
Russia and Tajikistan are nominally allies but have long had frictions over each other's treatment of human rights.