Poland PM Donald Tusk wins vote on reform plans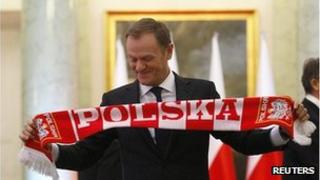 Poland's Prime Minister Donald Tusk has won a vote of confidence in his new government after setting out a programme of tough reforms.
Mr Tusk's coalition of his centre-right Civic Platform and the small agrarian People's Party won 234 votes in the 460-member lower chamber, the Sejm.
Last month Mr Tusk became the first Polish leader to be re-elected since the end of communism.
He wants to raise the retirement age and eliminate tax and pension perks.
Poland has been the only European Union member state to avoid recession, and this year its economy is forecast to grow by about 4%, the highest rate among the EU's seven largest economies.
But Mr Tusk wants to shield the country from the continuing eurozone crisis.
He said measures including raising the retirement age to 67, and phasing out special pension arrangements for farmers, miners, policemen, firemen and priests, would save about 10 billion zlotys (£1.9bn; 2.25bn euros) a year.
He hopes to reduce the budget deficit to just 1% by the end of the current parliament in 2015.