Prosecutors seek to speed up trial of Ratko Mladic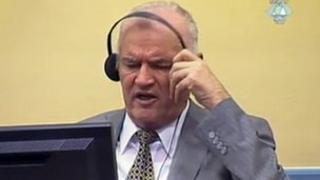 Prosecutors at the UN war crimes tribunal at the Hague want to reduce the amount of evidence to be presented against the former Bosnian Serb commander, Ratko Mladic.
They propose a drastic reduction in the scope of the indictment in an attempt to speed up his trial.
They are asking the judges if they can cut back by 45% the number of crimes they will seek to prove.
Gen Mladic would still be tried on all 11 charges, including two of genocide.
His defence team will study the amended charge sheet before the court decides whether to approve the prosecution's request.
The announcement was made just after a health assessment was conducted by a medical team appointed by the International Criminal Tribunal for the former Yugoslavia, and independently by doctors brought over from Serbia at Gen Mladic's request.
The 69-year-old former commander of the Bosnian Serb army is accused of masterminding atrocities by his forces throughout the Bosnian War, including ordering the massacre of 7,500 Muslim men and boys at Srebrenica in 1995.
He has refused to enter pleas to the charges so that judges entered not guilty pleas on his behalf. No date has been set for his trial to start.
Judges ordered a full medical examination after Gen Mladic said he was too ill to attend a hearing last week.
He was admitted to hospital last month after his lawyer said he was suffering from pneumonia.
Health complaints
The court issued a statement saying that the examination had been ordered "to better assess whether and to what extent his health condition could affect the preparation of the upcoming trial".
Gen Mladic has complained of health problems throughout the trial process.
The court-appointed medical expert is to due to report back by 6 December.
In his first appearance in front of the court in June, Gen Mladic called the charges against him "monstrous" and "obnoxious".
At his second hearing in July, he had to be removed from the courtroom after arguing with Judge Alfons Orie.
After 16 years in hiding, Gen Mladic was arrested in May by Serbian intelligence officers in a village north of Belgrade.
The former Yugoslav President Slobodan Milosevic died in 2006, during the fourth year of his war crimes trial before a verdict could be reached.