European Commission regrets Irish budget leak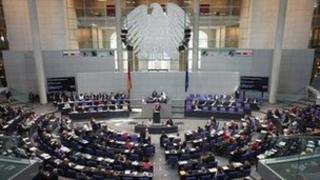 The European Commission has said it regrets the leaking of a draft Irish budget plan.
Proposals to save 3.8bn euros in the December budget were inspected by a German finance committee this week.
A spokesperson for Ollie Rehn, the European commissioner for economic and monetary affairs, said Brussels officials sent the draft to finance ministries in all 27 EU states.
He added the commission had a legal obligation to share the information.
Ireland has received an 85bn euros bail-out from the so-called troika, which is made up of the European Central Bank (ECB) the European Commission and the International Monetary Fund (IMF).
Commission spokesperson Amadeu Altafaj Tardio said the budget information had to be shared as part of the troika agreement.
"Ireland sees the same information from the troika about Greece, for example," he said.
Under strict rules enforced by the German constitutional court, parliament rather than the German government decides whether the country is willing to keep funding bail-out packages.
The commission has insisted it did not forward the document to the German parliament.
The budget paper said that Irish VAT would rise to 23% to generate 670m euros as part of the plan to save 3.8bn euros next year and another 3.5bn euros in 2013.
On Thursday evening, the Irish prime minister said he had "no idea" how the paper ended up in Germany.
Enda Kenny said his cabinet had made no decision on the final make-up of the budget.