German neo-Nazi threat discussed at top-level meeting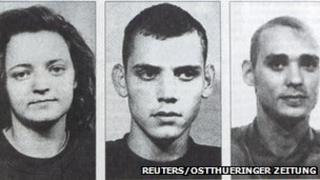 German ministers and experts have met in Berlin, in response to allegations that a neo-Nazi cell went undetected for a decade and killed 10 people.
Two people have been arrested and two more were found dead during a week of revelations that have shocked Germany.
The new Federal Prosecutor, Harald Range, said two further suspects were being investigated for links to the National Socialist Underground group.
The government has announced measures to tackle the far-right threat.
The existence of the cell emerged only when one alleged member, Beate Zschaepe, surrendered and two others reportedly killed themselves.
The two men, Uwe Mundlos and Uwe Boenhardt, were found dead in a caravan in Eisenach in eastern Germany.
They had left behind a DVD in which they admitted to the 10 killings. Among their alleged victims were nine immigrants - eight from Turkey and one from Greece - and a police officer.
Beate Zschaepe, who was wanted in connection with an armed robbery, had blown up her flat in the eastern city of Zwickau before handing herself in.
Police have arrested another suspected member of the group.
Intelligence failure
Detectives are reopening all unsolved cases stretching back to 1998 in which possible racist motives could have been involved.
The neo-Nazi cell is also suspected of carrying out a bomb attack in Cologne, in which 23 people were wounded, and a number of bank robberies.
Interior Minister Hans Peter-Friedrich said a working group was being set up to consider a possible ban on the neo-Nazi National Democratic Party of Germany (NPD).
A previous attempt was rejected by the country's constitutional court in 2003.
There are also plans to coordinate the work of the 32 police and domestic intelligence agencies in Germany's 16 Laender or states. Although there is a single federal domestic intelligence service, critics argue that the separate Laender system enabled the neo-Nazi cell to escape detection.
One of the most alarming elements of the case is a report that a domestic intelligence agent from Hessen was present either at or before the murder of a Turkish victim in Kassel. He has been described as having overt, far-right sympathies.
The federal prosecutor's office took over the inquiry a week ago under anti-terrorism laws. Harald Range, who started in the post on Thursday, would not give further details about the two new suspects linked to the case.
But the federal police chief, Joerg Ziercke, said they were investigating whether the neo-Nazi cell had a support network.