Italy: PM Mario Monti wins second confidence vote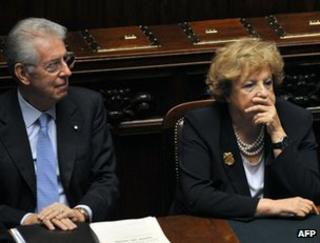 The technocratic government of Italian Prime Minister Mario Monti has won a crucial confidence vote in the lower house of parliament.
MPs voted 556 to 61 to endorse the new government's programme after Mr Monti asked to be allowed to continue in office until new elections in 2013.
Mr Monti's powerful predecessor, Silvio Berlusconi, said he would back the new cabinet staying in office until then.
The Senate, or upper house, endorsed the new programme on Thursday.
Mr Monti said he would meet German Chancellor Angela Merkel and French President Nicolas Sarkozy next week.
He has promised to fight tax evasion and reform pensions to bring down Italy's debt.
He is under considerable pressure to act quickly after Italy's borrowing costs again reached unsustainable levels, despite dropping to safer territory early this week following his appointment.
Mr Monti was sworn in on Sunday to lead a government of experts - including fellow professors, bankers and businessmen - after the country's worsening financial crisis forced out Mr Berlusconi.
Monti appeal
Addressing MPs, Mr Monti urged them not to "pull the plug" on his government before the next scheduled elections, no matter how politically painful the measures in his plan to spur growth and cut debt.
Mr Berlusconi, who retains substantial support in parliament, had reportedly said he would bring down the new government if he did not like the path it took.
However on Friday, he told reporters: "I think this government will operate in a way that serves the country for the whole remaining period."
On Thursday, the government won the vote in the upper house of parliament easily, by 281 votes to 25.
Addressing the senators, Mr Monti promised to respect Italy's timetable to balance its budget by 2013 and reduce its debt, but said austerity measures would be balanced by economic growth and social fairness.
"The future of the euro also depends on what Italy will do in the next few weeks," the former EU commissioner said before the vote.
Mr Monti said he intended to overhaul the pension system which he said "has large disparities in treatment and unjustified privileges for certain sectors".
He also said there would be a crackdown on tax evasion and changes to the taxation system.
He said the absence of a locally gathered property tax on houses classed as first homes was an Italian "anomaly". The tax - known in Italy as the ICI tax - was abolished under Mr Berlusconi.
He added that his government would introduce incentives for companies to employ more women and young people.
"If we fail, if we don't carry out the necessary reforms, we will also be subjected to much harsher conditions," Mr Monti said.
He said economic growth would also involve a crackdown on the Mafia.
But the unelected leader has already faced widespread protests, by people angry at growing unemployment and further austerity.
Who's who in the new government
Defence minster (not pictured): Giampaolo Di Paola, head of Nato's military committee since June 2008.
Foreign minister (not pictured): Giulio Terzi Di Santagata, experienced diplomat, no clear political leanings.