Viewpoint: Mario Monti's rush to save Italy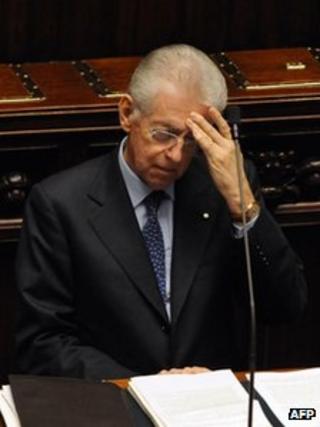 Mario Monti is in a race against time. He cannot afford a moment of uncertainty.
As he announced after his new government was sworn in office: "Now we have to hurry, we're in a rush."
But, in his case, the time factor is not due only to the hike in Italy's increased borrowing costs and the interest rates on government bonds and the need to reassure the markets of Italy's determination in respecting its commitment to Europe. He also has to win the backing of Parliament.
And he knows that the clock is ticking on his time as prime minister. He realises that his honeymoon with the political parties will not last very long and any uncertainty or delay could be fatal.
Italian politics has had to take a step back and give way to a technical expert because of popular indignation and pressure from the financial markets.
Now it can do little else but approve the measures imposed by Mr Monti without bickering about them. But this surrender to "the professor" will not last very long.
Political awakening
Therefore, the most necessary and unpopular measures should be passed before Christmas, because the New Year will certainly see an awakening among political leaders.
This does not mean that in a few months Mario Monti will lose their trust and be sent home, but that discussions on each measure might take longer and be more difficult and will require more patience.
The new prime minister has attracted significant popularity among Italian citizens - 73%, according to a poll published today by La Stampa - but if he wants to retain it he will have to prove that his government is different from its predecessors.
Italians cannot stand the privileges of the political class any longer - those expenses run up by a so-called "caste" that bear no comparison with any other European country.
Detested benefits
So, the prime minister should be able to start with cutting the cost of politics and all its detested benefits - from the more than 71,000 "Blue Cars" used by government officials to the use of State flights even for personal reasons.
This would be make sacrifices more acceptable to ordinary Italians; after years of excessive waste, an example of sobriety and rigour from those who govern the country is expected and mandatory.
Mr Monti, with his behaviour, his silence and even his look, has already sent a strong message in this direction. Now he has to provide the content to satisfy the expectations.
In his acceptance speech at the Senate, he demonstrated that his priorities are clear and he understands the risks: he explained that the situation was dramatic and that if Italy failed now, the terms imposed on Italy would become even worse.
But he underlined that there would be a fair distribution of sacrifice. First of all, he will cut the cost of government departments and state-owned companies. He will start a spending review of the prime minister's office right away. Italy has three times as many people working in ministerial departments as in Whitehall in London.
Revolutionary words
in response to Italy's financial emergency, he will make a balanced budget mandatory in the Constitution, he will reform pensions to cancel too many disparities and privileges, he will reintroduce a tax on first homes, he will call for new disposals of public property and intensify the fight against tax evasion.
His fiscal politics will point towards a reduction of taxes on labour and to an increase in those on consumption and property.
But the aim of the government's action and the long term reforms that it proposes is to provide a job and a future to the young generation and to fully include women in public life. Revolutionary words in a Parliament which is not used to addressing the next generation. Just as it was revolutionary to promise a country in which merit and talent will be prized.
An important speech, by a man who does not want to be a champion of anti-politics, but instead aims to "reconcile the Italian people with politics and institutions".
Mario Calabresi is Editor in Chief of La Stampa Newspaper