France drops inquiry into 'dirty cash' from Africa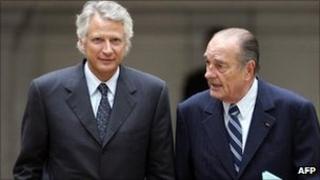 Paris prosecutors have dropped a preliminary inquiry into claims that ex-French President Jacques Chirac and ex-PM Dominique de Villepin were given up to $20m (£13m) by African leaders.
The prosecutors said the probe was called off due to lack of evidence.
The allegations were made in September by lawyer Robert Bourgi, who said he was personally involved in handing Mr Chirac briefcases full of cash.
Mr Chirac and Mr de Villepin deny the claims and have vowed to sue Mr Bourgi.
Mr Bourgi made similar allegations against the far-right politician Jean-Marie Le Pen, according to the Agence France-Presse news agency.
Mr Le Pen, the former head of the National Front party, said the allegations against him were "false... ridiculous".
'No trace'
In an interview for the Journal de Dimanche newspaper in September, Mr Bourgi alleged that he had been involved in handing over several suitcases to Mr Chirac during his tenure as mayor of Paris in the 1980s and 1990s.
He claimed that the suitcases always contained at least 5m francs ($1m; £630,000) and sometimes as much as 15m.
The first handover of money in Mr de Villepin's presence occurred in 1995, he said, involving 10m francs from the then Zairean President Mobutu Sese Seko.
Mr Bourgi alleged that money from the leaders of several former African colonies was then passed to Mr Chirac and Mr de Villepin over the next 10 years. He estimated the total amount to be about $20m.
But he added there was "no proof, no trace" of the alleged secret payments.
Mr Bourgi claimed that Senegalese President Abdoulaye Wade, Burkina Faso's Blaise Compaore, former Ivory Coast President Laurent Gbagbo, Republic of Congo President Denis Sassou Nguesso and President Omar Bongo of Gabon all visited Mr de Villepin in his office, handing over $10m for the 2002 election campaign.
Both Mr Chirac and Mr de Villepin, who is expected to run in next year's presidential elections, have repeatedly denied the accusations.
Separately, Mr Bourgi also alleged that Mr Le Pen funded part of his 1988 presidential campaign with money from Gabon's late ex-president Omar Bongo, AFP reports.
Asked what African leaders got in exchange for the money, Mr Bourgi said: "Lies, lies, lies, unkept promises, meaning that France would close its eyes to certain abuses of power in Africa."
Mr Bourgi is widely seen as being close to current French President Nicolas Sarkozy, but he has said he is not an unofficial or official adviser, although he was sometimes consulted by the president.