Police treat Cork body find as murder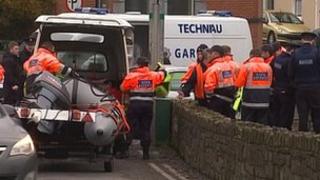 Irish police have said they are treating the death of a British man whose body was found in a river in County Cork as murder.
The body of John Forrester, 42, was found in a river in Bandon, County Cork, on Tuesday.
Gardai said it was still unclear which region of the UK Mr Forrester was originally from.
It said it is believed he may have come from the Blackpool area of England and appealed for information.
On Tuesday, a man and a woman appeared in court charged with the murder of Jonathan Duke, whose body was recovered from the River Bandon in County Cork on Sunday night.
They were Catherine O'Connor, 35, and 37-year-old Romanian national Ciprian Grozavu, both of Bandon Bridge House.
The court was told when Ms O'Connor was charged and cautioned by gardai, she replied "No".
When Mr Grozavu was charged and cautioned he replied: "I didn't do it."
The pair were remanded in custody to appear before the District Court in Bandon again on 21 November.