War crimes tribunal seeks Florence Hartmann arrest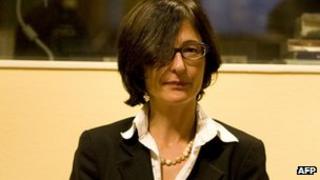 The International Criminal Tribunal for the Former Yugoslavia has issued a warrant for the arrest of its former spokeswoman, Florence Hartmann.
The French national was convicted of contempt of court in 2009 for disclosing confidential documents.
After an appeal in July, judges upheld a fine of 7,000 euros (£6,000; $9,500).
The court said that the fine had not been paid, although Ms Hartmann has insisted the money was deposited in a French account.
In a statement, the tribunal said: "The French Republic is hereby directed and authorised to search for, arrest, detain and surrender promptly to the tribunal, Florence Hartmann."
She faces a seven-day jail term.
A French journalist, Ms Hartmann worked for the tribunal for six years until 2006 and wrote a book, Peace And Punishment, and an article in which she disclosed confidential documents on the involvement of the Serbian government in the Bosnian war in the 1990s.