Germany to set up neo-Nazi registry after ten murders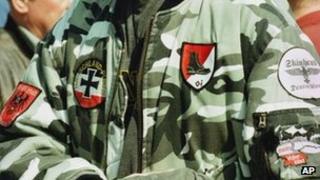 Germany's interior minister has said a national database of neo-Nazi extremists will be set up.
Hans-Peter Friedrich said the registry could be similar to one created for Islamist extremists after 9/11.
Germans are shocked that a suspected neo-Nazi cell went undetected for a decade during which it allegedly killed nine immigrants and a policewoman.
The country's police and intelligence agencies have come in for sharp criticism for not linking the murders.
The group, calling itself the National Socialist Underground, only came to light this week when a woman, wanted for questioning about an armed robbery, surrendered and two other suspects killed themselves.
The woman, named as Beate Zschaepe, turned herself in after blowing up her rented flat in the eastern city of Zwickau.
The bodies of the two men were found in a caravan in which they had left a DVD admitting to ten unsolved murders. Media reports said the three were closely linked.
Another suspected accomplice is also in police custody. Police are investigating whether a larger network was involved.
'Match up data'
A lack of co-ordination between Germany's various police and intelligence agencies is blamed for allowing the group to remain undetected for so long.
They are also suspected of carrying out bank robberies and a bomb attack in Cologne.
The police are now reopening all unsolved cases with a possible racist motive since 1998.
Mr Friedrich said the registry would compile "information about right-wing extremist perpetrators so that it is possible to automatically match up data".
Meanwhile, German media have reported that security agencies discovered a list of 88 people, including two prominent MPs and members of Turkish and Islamic organisations, who were considered at risk of attack by right-wing extremists.
Police believe eight ethnic Turks, an ethnic Greek and a policewoman were murdered by members of the hitherto unknown National Socialist Underground.
Chancellor Angela Merkel has called the murders "shameful".
The far right in Germany is small and politically marginalised but over the years has carried out periodic attacks on immigrants.