Eurozone crisis: The German solution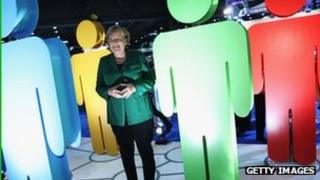 Anyone uncertain about the extent to which the eurozone crisis is bringing about profound change in Europe should turn their attention towards Rome.
Italy, a major European power, now has a cabinet made up entirely of technocrats. Unlike in Greece, there's not an elected politician among them.
And all because senior eurozone leaders, and the markets, demanded it be so.
The new government will introduce rapid economic reform - painful austerity measures - to try to calm financial speculation.
But already there is an uneasy feeling that the markets may have moved on.
No 'big bazooka'
The President of the European Commission, Jose Manuel Barroso, warned that the crisis has become systemic, and no country in the eurozone was immune to market pressure.
He suggested bonds issued jointly by all eurozone countries could be part of the solution.
"If we want to keep a common currency," Mr Barroso told the European Parliament, we need "common instruments to fight this financial instability."
But eurobonds have been rejected by the German government. So what more will Europe's richest and most influential country do to help protect the eurozone?
Many outsiders, and quite a few insiders, have argued that the solution lies with the European Central Bank (ECB) - allowing it to print money to help countries which run into trouble. Germany rejects that too.
Instead it wants to give decisions already taken, but not yet implemented, a chance to work. That means expanding the firepower of the eurozone's bailout fund, and taking steps to recapitalise banks.
There is already scepticism about whether that will be enough. Once again, politicians are struggling to keep up with the pace of events.
But German Chancellor Angela Merkel has always said - even in the midst of crisis - that there has to be a step-by-step approach. There is no "big bazooka".
She is thinking longer term. And at its annual conference this week, her Christian Democrats (CDU) followed her lead.
It is now the official policy of the CDU to seek a series of dramatic changes to the way the EU is run.
It wants future presidents of the European Commission to be directly elected by European citizens - part of the political union Mrs Merkel says she intends to build.
It also wants ministers from member governments to create a second chamber in a reformed European parliament with the power to initiate legislation.
And the CDU will be pushing for changes to the EU's Lisbon Treaty to reflect much closer economic ties within the eurozone.
Finance Minister Wolfgang Schaeuble said he wanted treaty change to be finalised in just over a year's time.
And if all 27 EU countries can't agree, the change should be approved by eurozone members alone.
Merkel vs Cameron?
Finally, the German government is pushing for something which brings Mrs Merkel into direct conflict with British interests.
She is determined to push ahead with a tax on financial transactions, to help regulate the markets.
The chancellor's meeting in Berlin this week with British Prime Minister David Cameron will almost certainly be cordial. But there are serious disagreements between them.
One senior member of Mrs Merkel's party, Volker Kauder, captured the mood when he told the CDU conference that Britain should stop being so selfish when it comes to Europe.
Britain certainly is not alone in opposing many German ideas, and the Christian Democrats will not get everything they want. As ever in the EU, it will be about building alliances and forging consensus.
But the views of the most powerful political party in the most powerful country in Europe should not be underestimated.
"I made it clear," Mrs Merkel said on Wednesday, "that we need more powers for Europe to make sure everyone sticks to the rules. In return we're willing to give up some of our national sovereignty."
So debates about the future of Europe are intensifying.
But there is a more immediate problem. The measures which are supposed to protect the eurozone right now have not yet been shown to work.