London hosts Russian oligarchs' prize fight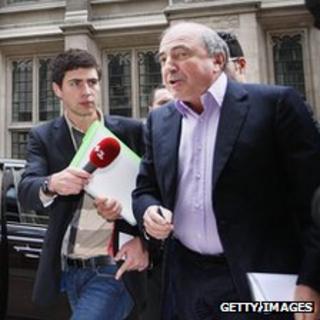 It is an oddly English setting for a courtroom battle between billionaire Russian oligarchs used to the bruising power games of Kremlin politics.
Chelsea Football Club owner Roman Abramovich is being sued by London-based business rival Boris Berezovsky, their friendship having turned sour.
Mr Berezovsky, 65, alleges he was forced to sell his stakes in the oil company Sibneft and aluminium giant Rusal well below their true value. He is claiming £3bn in damages.
Mr Abramovich, 45, denies the alleged breaches of trust and contract, saying Mr Berezovsky was never a real shareholder. He says Mr Berezovsky was paid millions of pounds for his services as a "political godfather" but was not a business partner.
Yet the atmosphere is strangely relaxed and cheerful. There are eloquent star barristers, confident witnesses and numerous journalists - all looks fine.
Political nuances
"The English court is an extraordinary system. I wish Russian courts were like that, but it took centuries to form what they have in England," one of the witnesses told Russian journalists after being released by the judge. He definitely liked the experience.
It was none other than Alexander Voloshin, once the chief-of-staff for then-president Vladimir Putin.
In 2003 Mr Voloshin resigned after the arrest of oil tycoon Mikhail Khodorkovsky, who was then Russia's richest man and regarded by some as a potential rival to Mr Putin.
Yet Mr Voloshin said in court that he still supported Mr Putin's decision to take the ORT TV channel out of Boris Berezovsky's hands, without seizing the shares.
"Isn't that strange?" inquired a British reporter, puzzled by Mr Voloshin's position.
"It's more complicated," answered his Russian colleague.
Indeed, it is more complicated. Russian business culture fits awkwardly into the framework of the English legal system.
The rivals come to the Commercial Court in Fetter Lane every day, but avoid exchanging words or glances.
You could liken it to a boxing match, with a red corner and a blue corner.
In tune with Britain's Remembrance Day the Berezovsky side sported red poppies.
The Abramovich team always wear the same blue ties. Observers said that was a sign of their loyalty to football - and a nod to Britain's "beautiful game".
Heavy security
But there are other rather less genteel elements in this courtroom drama.
Boris Berezovsky comes to court in a Maybach limousine with numerous bodyguards. They have earpieces, dark glasses and even body armour under their shirts - the message is evidently "don't mess with this guy".
Roman Abramovich adopts a much simpler manner. He usually walks to the court accompanied by a bodyguard. He also walks down Fetter Lane in the lunch break with his friends and aides.
But at the end of the day he does not wait for a taxi to take him home.
The day Mr Abramovich ended his testimony there were seven cars waiting for the rivals by the doors of the Commercial Court: four Mercedes, one Maybach, a BMW and a black Range Rover.
The Russian slang word "krysha", meaning protection provided - at a price - by someone with powerful friends, is heard in court, to the amusement of the Russian media. Some see it entering the English legal lexicon.
The case centres on business deals that shaped Russia in the 1990s. But London lawyers may have to get more familiar with such cases in future.
"With the deterioration of the legal system in Russia, we risk becoming regulars in the English courts", said one Russian reporter covering the case.