Pair accused of murdering Jonathan Duke in Bandon, Cork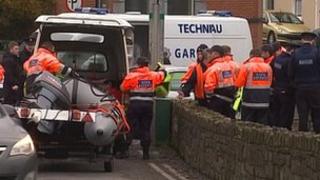 A man and a woman have been charged with the murder of Jonathan Duke, whose body was recovered from a river in County Cork on Sunday night.
Catherine O'Connor, 35, and 37-year-old Romanian national Ciprian Grozavu, both of Bandon Bridge House, were charged with the murder of Jonathan Duke.
The court was told when Ms O'Connor was charged and cautioned by gardai (Irish police), she replied "No".
When Mr Grozavu was charged and cautioned he replied: "I didn't do it."
The pair were remanded in custody to appear before the District Court in Bandon again on 21 November.
A crowd of around 300 people had gathered outside when the two were brought to court from the local Garda station.
On Tuesday afternoon, a second body was recovered from the Bandon river 500 metres downstream from Bandon Bridge House by gardai investigating the death of Mr Duke.
The body is believed to be that of a British man in his 40s and was discovered at 11.45am.
This man also lived in a flat in Bandon Bridge House and had been last seen on Saturday.