New Italian leader Monti aims to break Berlusconi mould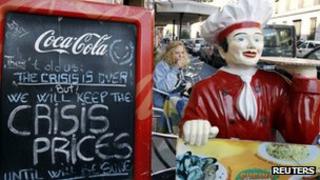 The contrast between Italy last week and Italy this week could not be greater.
Last week Prime Minister Silvio Berlusconi bade an emotional farewell to Italians on both his own TV channels and those of the state broadcaster Rai.
He claimed that he loved his country and had always done his best for Italy (odd this, coming from someone who, according to a recently published telephone intercept, had not so long ago lost his cool and vulgarly decried Italy as a "shit country").
He then added that he was still going to be standing in the wings and assured his admirers (who are still numerous) that this was not his final exit.
He was rewarded by being pelted with a shower of coins as he left the Quirinal Palace after tendering his resignation to the head of state.
Outside, a scratch choir rapidly assembled through Facebook performed Handel's Hallelujah Chorus. Their impromptu concert echoed a national sigh of relief at his presumed departure from the current political scene.
The throwing of coins was a repeat performance of the scene back in 1994, when Mr Berlusconi's Socialist predecessor Bettino Craxi also received the traditional salute given to unpopular politicians suspected of malfeasance.
True, Mr Berlusconi has not left the country as a fugitive from justice, like Mr Craxi did. In fact, he announced he was leaving office as "an act of generosity and responsibility".
This week, Prof Mario Monti, Italy's prime minister-designate, presented a radically different public image from that of his predecessor.
Mr Monti is a member not only of Italy's intellectual elite, but also of the inner club of Europe's chief movers and shakers.
He has a low public profile, and does not own a house or apartment in Rome, so he was staying here in a tourist hotel, not the super luxury sort. He was filmed filling up his own car at the petrol pump and attending Sunday Mass with his wife.
His rare news conferences so far are not hectoring monologues, but give serious answers to serious questions.
Sacrifices
For example, he made it clear that he has no intention of forcing his countrymen to sweat "blood and tears" as has been forecast by some Euro pundits to resolve the current eurozone debt crisis.
But he admitted that Italians would be forced to make some unpleasant economic sacrifices in the months and years to come.
The stringent measures which the quarrelling Berlusconi coalition could not - and dared not - apply, which Mr Monti will shortly present to parliament, reportedly include:
a wealth tax, the measure most scaring the well-to-do ("Watch your wallets!" was the headline in one of the newspapers supporting Mr Berlusconi as Mr Monti began his talks with politicians over who was going to join his technocrat government)
a reduction in the cost of government itself (ie, pay less public money for politics and the multiple levels of bureaucracy)
restoration of the locally gathered property tax - that is, the ICI tax which Mr Berlusconi had abolished on ownership of houses classed as first homes
25% upward revision of property values upon which taxes are based.
The question is: Will Italians find a different way of doing politics now that Silvio Berlusconi has - to use his own terminology - "left the field"?
Old political rituals still die hard in Rome - and Mr Monti has to follow the strict path laid down in the constitution whenever there is a changeover at the prime minister's Palazzo Chigi.
First he had to take the political temperature by consulting the more than 20 parties which asked to see him before he announced his government of economic experts, or technocrats.
At the last election only five political parties succeeded in passing the minimum threshold of votes they needed to be represented in parliament. This sudden proliferation of parties and interest groups must have surprised him.
'Craftiness and neglect'
Will Italy opt for emergency rule or follow the leisurely tempo of traditional Italian politics with its strange meanders? That is going to be the choice facing Mr Monti in the weeks to come.
Many Italians hope that Mr Monti is going to break the mould and initiate a new political era where fairness, not privilege, rules.
A blogger who found his way into my email put it succinctly, I thought.
"The doubt is whether we Italians have enough sense of the common good to play a team game based on commitment and loyalty after living through two decades (Craxi + Berlusconi) during which craftiness and neglect of the rules of the game was the order of the day," he wrote.
"To change from favours for the few to fairness for all of us is a unique chance for our electorate to learn civic responsibility. If we change, politics can change. And at last Italy can change."
Good luck, Mr Monti!