Irish minister Willie Penrose quits over barracks closure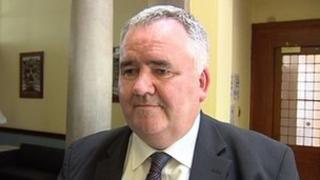 The minister for housing in the Republic of Ireland, Willie Penrose, has resigned from the government over the closure of his local army barracks.
The Labour TD was strongly opposed to the plan to close Columb Barracks in Mullingar.
The decision was taken by the Irish cabinet on Tuesday afternoon.
Mr Penrose, who represents Longford-Westmeath, is the first minister to resign from the current administration.
He said he had tendered his resignation with regret.
"Over recent weeks and months, I had made my clear unstinting opposition to proposals to close Columb Barracks in Mullingar, so arising from a decision that was made at cabinet today, I had no alternative but to take this course of action," he said.
"I was not prepared to stand over a decision that was not backed up by the facts and figures. While I will no longer hold the Labour whip, I will continue to serve the people of Longford Westmeath as an active and vocal public representative."
The Irish cabinet voted to close military barracks in Cavan, Clonmel, Castlebar and Mullingar. The Mullingar barracks will close at the end of March 2012.