Four Spanish police cleared of torturing Eta militants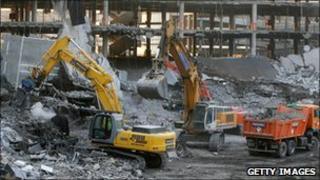 Spain's high court has acquitted four civil guard police officers who were jailed for torturing two members of the armed Basque separatist group, Eta.
The five judges backed the guards' claim that the torture allegations were part of a "political-military strategy and procedure" by Eta, the AFP news agency reports.
The injuries of Igor Portu and Mattin Sarasola could have been caused by a "violent arrest", the defence argued.
The four were jailed in December 2010.
They had been part of a group of 15 paramilitary police on trial - 11 of whom were later acquitted - and were given sentences ranging from two to four-and-a-half years in prison.
They had been found guilty of carrying out "serious torture" during the arrest and transfer of Portu and Sarasola in January 2008.
The court hearing the case at the time, in the Basque city of San Sebastian, was told that Sarasola had a gun pointed at his head, and that Portu was plunged several times in a river and forced to drink the water.
Following their arrest, Portu and Sarasola were found guilty and jailed over a bombing at Madrid's Barajas airport in 2006 in which two people died.
Eta's violent campaign for an independent Basque homeland in parts of northern Spain and south-west France has led to more than 820 deaths over the past 40 years.
Last month, the group declared "definitive cessation of its armed activity".