Row between Russia and Tajikistan escalates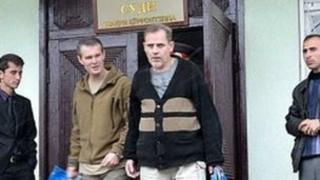 Russia has cracked down on illegal migration from Tajikistan days after the Tajiks jailed two pilots making a fuel stop en route from Afghanistan.
Scores of Tajiks have been rounded up in Russia and the country's top sanitary official has called for a temporary ban on labour migration.
Moscow strongly protested after the pilots, who had delivered humanitarian aid in Afghanistan, were jailed.
Migrant work in Russia is a vital source of income for many Tajiks.
Russian President Dmitry Medvedev has said he does not regard the deportation of illegal Tajik migrants as an act of revenge but a "coincidence".
Russia and Tajikistan, the poorest of the former Soviet republics, are nominally allies but have long had frictions over each other's treatment of human rights.
'Health grounds'
Russian pilot Vladimir Sadovnichy and Estonian pilot Alexei Rudenko were detained on 12 March after landing their An-72 cargo planes at Tajikistan's Kurgan-Tyube airport, Russian media report.
They were flying back to Russia from the Afghan capital, Kabul, where their company Rolkan Investments had been working for the Afghan government, delivering aid from Russia.
But in Tajikistan, the two men were accused of smuggling and illegally crossing the border.
They were convicted and jailed for eight-and-a-half years on 8 November, to protests from Russia.
Tajik prosecutors called on Tuesday for the sentences to be reduced because the two men are "citizens of Tajikistan's strategic partner-states".
Russia's federal migration service has officially denied press reports that it plans to expel 10,000 illegal Tajik migrants from Russia but at least 300 were detained in recent days.
Chief public health official Gennady Onishchenko called for a temporary ban on the use of migrant Tajik labour on medical grounds, citing "many" instances of HIV and tuberculosis infection among such migrants.
Svetlana Gannushkina, a member of the Russian presidential council on human rights, accused the authorities of persecuting "the humblest group of labour migrants" instead of "seriously defending" Russian citizens abroad.
Tajik migrants are seen as a source of cheap labour in Russia. Some 700,000 Tajiks are registered as living in Russia, or a tenth of the country's population of just under seven million.