Denmark 'Muhammad cartoon plot' trial begins in Norway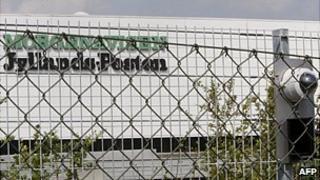 Three men accused of plotting to carry out an attack on the offices of a Danish newspaper which printed cartoons of the Prophet Muhammad have pleaded not guilty at their trial in Norway.
The three, residents of Norway who were arrested there in July, are accused of collecting bomb-making equipment.
Prosecutors say they planned an attack against newspaper Jyllands-Posten or people linked to the cartoons.
The 12 drawings sparked furious protests in Muslim countries in 2006.
All three men - a Norwegian citizen of Chinese Uigur origin, an Iraqi Kurd residing in Norway and an Uzbek also living in Norway - deny the charges.
On the first day of the trial, prosecutors said the plot was agreed with al-Qaeda in Pakistan, where one of the men had been trained.
The trial opened less than two weeks after the offices of French satirical weekly Charlie Hebdo were firebombed in Paris as it published an edition featuring the Prophet Muhammad as "guest editor" on the cover.
The 2006 protests followed the publication of the cartoons in 2005, one of which depicted the Prophet Muhammad with a bomb-shaped turban.
Muslims regard any visual representation of the Prophet as blasphemous.