Austria exhumes Nazi-era remains from hospital cemetery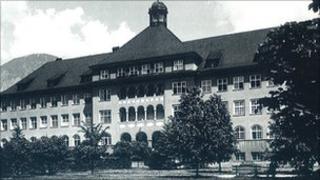 Officials in the Austrian province of Tyrol say they have completed the exhumation of more than 200 skeletons from a Nazi-era graveyard.
The site, at a disused hospital cemetery in the town of Hall, was discovered earlier this year.
Researchers believe the bodies may have been people killed by the Nazis because of mental or physical disabilities.
Over 220 bodies have been dug up since the process of exhumation began after the snows melted in the spring.
Scientists say many of the skeletons, which date back to the Nazi-era, have broken bones, injuries apparently inflicted by hospital staff.
During World War II, the Nazis murdered thousands of disabled people they thought unfit to live.
But researchers in Hall say more work is needed before the causes of death of those found can be confirmed.
The bodies now have all been identified. Their ages range from 14 to 90.
Attempts are being made to contact descendants and those who had links to the hospital personnel.
The investigations are expected to continue until 2013.