Yemen hostages: Freed French aid workers return home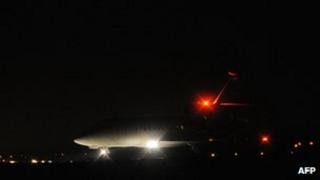 Three French aid workers kidnapped in Yemen in May have arrived back in France after being released.
They had been seized by suspected al-Qaeda militants in the town of Seyun, 600km (375 miles) east of Sanaa.
The two women and a man, who worked for French charity Triangle Generation Humanitaire, arrived at a military airport outside Paris on Monday.
It was not immediately clear if a ransom was paid. A French official said it was not government policy to do so.
However, according to the Associated Press, a senior Yemeni tribal mediator said the Omani government and a Yemeni businessman paid a sum to have the trio freed.
He said the three aid workers had been carried by helicopter from the southern Yemeni city of Shabwa to Oman late on Sunday.
Earlier on Monday, French President Nicolas Sarkozy thanked the Sultan of Oman for his "crucial help" in securing their release.
A director of the aid group, Patrick Verbruggen, told the AP that the three were "in good physical shape," ahead of the arrival in France. "We are sharing a moment of happiness," he added.
The three had appeared in an online video in September, saying the demands of their abductors had not been met.
More than 200 foreigners have been kidnapped in Yemen over the past 15 years; most have been released unharmed.