Italy's Mario Monti 'aims to stay until 2013 polls'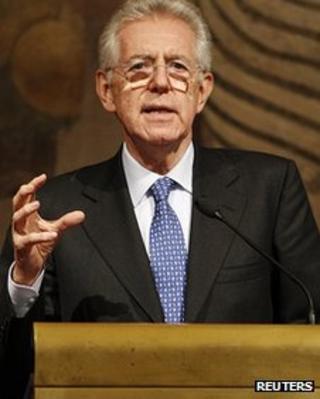 Italy's prime minister designate Mario Monti says he hopes to form a government that will be in office until 2013 when the next elections are due.
Mr Monti, an economist and former European Commissioner, warned Italians of "sacrifices" ahead as the country faced up to its debt crisis.
As has finished his first day of talks aimed at forming a new administration, financial markets remained wary.
Italy's cost of borrowing has remained above 6%.
Although the country's next elections are not due until 2013, there had been speculation that Mr Monti might make way for polls once he passes key economic reforms promised to European partners.
"It is obvious that parliament can decide at any time that a government does not have its confidence," Mr Monti told a news conference.
"If a date before (2013) is set, this haste would take away credibility from the government's actions."
Asked by reporters what Italians could expect he replied: "Blood no, tears no, but maybe sacrifices."
On Tuesday Mr Monti holds talks with Italy's two largest political groups - the conservatives of outgoing PM Silvio Berlusconi and the centre-left PD party.
Correspondents say their votes will be crucial in a confidence vote expected later this week.
He said his first day of talks on Monday - with representatives of smaller parties - had gone well.
Sale of bonds
The new government must try to reverse a disastrous collapse of market confidence in Italy.
In what was widely seen as the first test of Mr Monti's leadership, Italy sold 3bn euros ($4.2bn, £2.6bn) of new five-year bonds on Monday.
However, it had to pay more to borrow the money - 6.29% - indicating continuing unease in the markets.
Mr Berlusconi was forced to resign when the yield on Italian bonds rose to more than 7% last week, the rate at which Greece, Ireland and Portugal were obliged to seek bailouts from the EU.
Italian President Giorgio Napolitano has called for an national effort to support Mr Monti and win back the confidence of international markets.