New Greek PM Papademos urges structural reform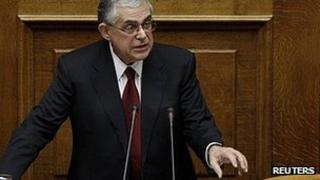 Greek interim Prime Minister Lucas Papademos has urged MPs to back structural reforms, blaming previous economic policy for the recession.
Outlining his unity government's plans, he said the priority was to activate the second EU-IMF bailout package, worth 130bn euros ($177bn; £111bn).
Greece is in the midst of a debt crisis that is threatening the whole eurozone.
But Mr Papademos, an unelected banker, insisted Greece's only option was to stay within the 17-nation zone.
The BBC's Mark Lowen says it was a defiant and ambitious speech by the new Greek leader.
Mr Papademos faces a vote of confidence in parliament on Wednesday, but is expected to win, our correspondent adds.
In his first address to MPs since taking office, he said the country had to widen its tax base and fight rampant tax evasion.
Greece's unity government is supported by the outgoing Socialists (Pasok) and the rival centre-right New Democracy and is intended to run the country until elections in February.
It must approve the massive bailout agreed at an EU summit last month, and to implement policies linked to it.
Cash crisis
The government also needs to secure an 8bn-euro ($11bn; £6.8bn) instalment from the first bailout, to prevent the country from running out of cash within weeks.
"It is a fact that the crisis and the current policy have worsened recession and unemployment," Mr Papademos told MPs.
But he said staying in the euro was Greece's "only choice".
"The main task of this government as agreed by political leaders under the president is to carry out the decisions of the [October EU] summit, and to apply economic policies linked to these decisions," he said.
"The new government of co-operation and I... undertake the responsibility at this critical moment because the country's participation in the eurozone is at stake.
"Our EU peers and the organisations supporting us have said that additional funding will only continue if the EU summit decisions are applied in full."
Mr Papademos was named as interim prime minister last Thursday after days of turmoil sparked by outgoing PM George Papandreou's suggestion that the EU bailout should be put to a referendum. That idea was later dropped.