Dominique Strauss-Kahn to sue after sex reports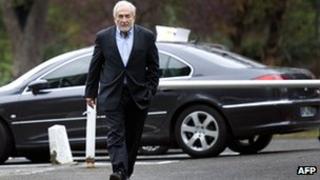 Lawyers for former IMF chief Dominique Strauss-Kahn have said they will take legal action over alleged invasion of privacy.
French newspapers have carried reports about alleged links between Mr Strauss-Kahn and a prostitution ring in the northern city of Lille.
There has also been speculation in several newspapers about the state of his marriage to wife Anne Sinclair.
The move aims to protect the couple from intrusive reporting, lawyers say.
A statement from the couple's lawyers condemns the latest reporting as "the most detestable voyeurism".
"We are already examining what action to take over certain articles which indulge in the lowest form of voyeurism and provide no legitimate information to the public," lawyers Henri Leclerc and Frederique Beaulieu said in a statement.
"Neither judicial nor media necessities authorise anyone not to respect the confidentiality of a judicial investigation, the presumption of innocence and various aspects of private life," the lawyers said on Monday.
They accused the media of "fantasising in particular about the alleged intentions or frames of mind of Anne Sinclair or of Dominique Strauss-Kahn under the hypothetical cover of statements by third parties courageously hiding behind anonymity".
They went on to say they had been instructed by their clients to launch legal proceedings wherever the law might have been breached.
'Carlton affair'
Mr Strauss-Kahn has been mentioned in connection with a call-girl racket in Lille, known as the Carlton affair after the name of the hotel where clients were allegedly supplied with prostitutes.
The affair has led to the arrests of several leading figures in the city, including businessmen and police chiefs.
According to French newspapers quoting anonymous friends of the couple, these allegations have in turn placed Mr Strauss-Kahn's marriage with the journalist Anne Sinclair under growing pressure.
Earlier this year, US prosecutors accused Mr Strauss-Kahn of attempting to rape a hotel maid, Nafissatou Diallo, in New York, but the charges were dropped in August.
Last month, a French inquiry into attempted rape claims brought by writer Tristane Banon against Mr Strauss-Kahn was also dropped.
Mr Strauss-Kahn, who resigned from his job as head of the International Monetary Fund after Ms Diallo accused him of attempted rape, still faces a civil suit in the US brought by Ms Diallo.