Italy crisis: Reaction to Berlusconi's resignation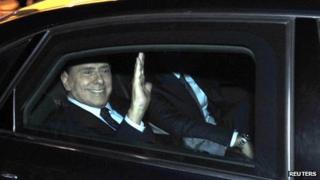 A sense of drama and anticipation built all through a momentous evening in the streets of Rome.
As Mr Berlusconi entered parliament for the last time as Prime Minister, his party deputies chanted their support. "Silvio! Silvio!" they roared, as their leader stood smiling and waving.
Then after holding one last cabinet meeting, Mr Berlusconi began the short car ride to the residence of Italy's head of state, Giorgio Napolitano. It was an undignified journey. As Mr Berlusconi emerged from his home in the city centre, protesters jeered him, shouting that he was a "buffoon" and a "mafiosi".
And a much larger crowd had gathered to wait for the prime minister outside the presidential palace, the Quirinale. Police struggled with demonstrators who jeered and whistled as Mr Berlusconi's convoy swept by on the cobblestones.
Inside the palace, the prime minister met President Giorgio Napolitano, and formally tendered his resignation. Afterwards, to avoid the protesters, he slipped out of a side door.
Meanwhile, on Facebook and Twitter, parties were being organised by those who wanted to celebrate what they must sometimes have doubted they would ever see - the back of Silvio Berlusconi.
Right man
Then Italians began reacting to what had happened.
Pier Luigi Bersani, the leader of the main opposition grouping, the Democratic Party, described this as a "day of liberation".
"Berlusconi exits through the back door. Italy celebrates," ran the headline of the leftwing newspaper, L'Unita.
But some are clearly appalled by the treatment meted out to Mr Berlusconi in his last hours.
"Insulting, spitting and partying. What do stadium chants have to do with a day like this?" said an online editorial in Il Giornale, a paper run by Mr Berlusconi's brother, Paolo.
But it would be a mistake to think that the entire nation was bound up in the events surrounding the fall of Silvio Berlusconi. Earlier in the afternoon, in the streets and piazzas, there were many shoppers and strollers who seemed to care little for the drama unfolding nearby.
Nobody spoke well of Silvio Berlusconi. But then you also sensed a general contempt for Italy's entire political class.
Now all the focus is on who will come after him.
And it seems almost certain that the former European Union commissioner, Mario Monti, will be asked to form a new administration. He has a substantial amount of support.
Many people regard this much respected economist as being the right man to take charge at this time of financial crisis. But some of Mr Berlusconi's outgoing coalition are strongly opposed to Mr Monti's accession.