Germany probes suspected far-right murders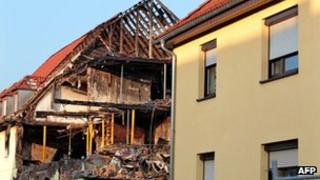 Prosecutors in Germany say they have found evidence to link the murders of 10 people over seven years to far-right extremists.
Eight of the victims were of Turkish origin, one was Greek and one was a German policewoman.
Nine were small businessmen - mainly kebab stall owners - who were shot in the face in broad daylight at their places of work.
The murders were committed in several German cities between 2000 and 2007.
Police did not at first link the killings to neo-Nazis until the discovery last week of two handguns in a burnt-out house and caravan in the eastern German town of Zwickau.
There they also found the bodies of two men suspected of having taken part in an attack on two police officers in the city of Heilbronn in south-west Germany in 2007.
In the 2007 attack, a policewoman was killed and her male colleague seriously injured.
The two guns were thought to have been used in the policewoman's murder and the killings of the small businessmen.
'Trail of blood'
The evidence found included DVDs prepared for sending to news agencies and Muslim cultural centres, containing propaganda for a neo-Nazi group.
"There is sufficient evidence to attribute the murders to an extreme right-wing group," a statement from the Federal Prosecutors' Office said.
Police identified the two men found dead in the caravan as Uwe B and Uwe M - they are thought to have committed suicide.
Police also arrested a woman identified as Beate Z who was described as the two men's "companion".
All three were known to belong to extreme right-wing groups.
The woman faces charges of murder, attempted murder, arson and belonging to a terrorist organisation.
The head of the German police trade union, Bernhard Witthaut, said the evidence so far suggested "a right-wing extremist terror cell has left an atrocious trail of blood".
Germany's far-right is small and politically marginalised, but has given rise to concern with periodic attacks on immigrants.
Germany is home to some 3,000,000 people of Turkish origin.