Italy's Berlusconi to quit after austerity law vote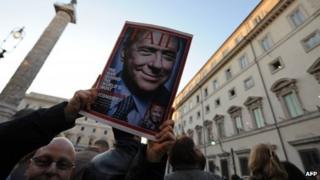 Italy's Prime Minister Silvio Berlusconi is meeting President Giorgio Napolitano to submit his resignation.
It comes after the lower house of Italy's parliament has passed a package of austerity measures demanded by the EU and designed to restore markets' confidence in the country's economy.
A technocrat government led by ex-EU commissioner Mario Monti seems likely.
The austerity package includes a rise in VAT and the pension age, rising fuel prices and the sale of state assets.
Mr Berlusconi, who lost his parliamentary majority in a vote on Tuesday, promised to resign after the austerity measures were passed by both houses of parliament.
Members of the lower house voted 380-26 with two abstentions, after the Senate approved the measures easily on Friday. President Napolitano later signed the bill.
After accepting Mr Berlusconi's resignation, Mr Napolitano could then formally ask Mr Monti or another candidate to form a government of technocrats.
"We thank Berlusconi for what he has done for all these years," said Fabrizio Cicchitto, an MP from the prime minister's People of Freedom Party.
Opposition MP Dario Franceschini welcomed his expected resignation.
"Today the curtain falls on a long and painful phase of Italian political history," he said.
"The country wants to turn the page and start again."
'Bye bye'
Crowds gathered outside the parliament, shouting "Resign" and "Bye bye Silvio". Later, groups outside the president's and prime minister's offices shouted abuse, calling Mr Berlusconi a "buffoon" and a "clown".
The outgoing prime minister said he felt "embittered" after hearing the insults.
Italy's leaders are desperate to signal that they can bring the country's finances under control, says the BBC's Alan Johnston in Rome, and they are moving fast.
Mr Monti, a well respected economist, is exactly the sort of man that the money markets would like to see take charge at this time of crisis, our correspondent says, but there is significant opposition to him within the country.
The austerity package foresees 59.8bn euros in savings from a mixture of spending cuts and tax rises, with the aim of balancing the budget by 2014. Measures include:
An increase in VAT, from 20% to 21%
A freeze on public-sector salaries until 2014
The retirement age for women in the private sector will gradually rise, from 60 in 2014 until it reaches 65 in 2026, the same age as for men
Measures to fight tax evasion will be strengthened, including a limit of 2,500 euros on cash transactions
There will be a special tax on the energy sector
On Wednesday, the interest rate on 10-year Italian government bonds touched 7%, the rate at which Greece, Ireland and Portugal were forced to seek bailouts from the EU.
An EU team has begun work in Rome, monitoring how Italy plans to cut its crushing debt burden, 120% of annual economic output (GDP).
The Italian economy has grown at an average of 0.75% a year over the past 15 years.