Al Jazeera launches Balkans television channel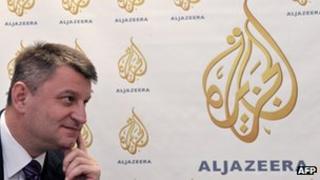 Pan-Arab news network al-Jazeera is launching a 24-hour television channel in the Balkans.
The new service is based in the Bosnian capital, Sarajevo, but also has offices in Serbia, Croatia and Macedonia. It will broadcast in local languages.
Al-Jazeera officials said they wanted to provide "objective" and "professional" news to the region.
The BBC closed its Serbian, Macedonian and Albanian radio services earlier this year to save money.
Al-Jazeera set up the channel by purchasing a local TV station, NTV 99, in Sarajevo last year, investing millions of dollars to improve the facilities.
It will broadcast in the common language spoken in Serbia, Croatia, Bosnia and Montenegro, which was sometimes known as Serbo-Croat but is now more commonly given different names, depending on the country it is being spoken in.
"We were training for months to achieve the al-Jazeera standards that our public can experience from now on," managing director Tarik Djodjic told the AFP news agency.
Analysts say some local media outlets in the former-Yugoslav countries played a key role in fuelling the wars of the 1990s and often still have a narrow outlook.
"The war started with the media and the media continue to fight it" Tanja Topic, a Bosnian Serb political analyst told the Associated Press.
"Now al-Jazeera is entering the space with their serious approach to information."
"This can be a big challenge for the others here who could start being a bit more responsible towards the public," she said.