Ukraine levels new charges at jailed Tymoshenko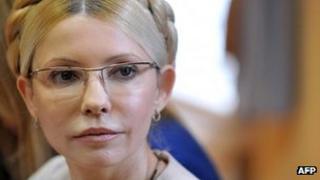 Yulia Tymoshenko, the Ukrainian former prime minister jailed for abuse of office in October, has been charged with new offences dating to the 1990s.
She was charged with tax evasion, theft and concealing foreign currency revenues while serving as head of United Energy Systems of Ukraine.
She formed the gas company in the mid-1990s to supply Ukrainian industry.
Correspondents say the new charges lessen her chances of being released from prison in the near future.
Western leaders were among those who protested at her seven-year sentence for abuse of office over a gas deal with Russia which she oversaw while prime minister in 1999.
Ms Tymoshenko has accused Ukrainian President Viktor Yanukovych, an old political opponent, of orchestrating a conspiracy against her.
There was no immediate comment from her lawyers on the new charges.
Her supporters have expressed concern about the former 2004 Orange Revolution leader's health in a jail in the capital, Kiev.
Ukraine's prison service has confirmed she injured her back on Saturday during a prison yard walk but blamed her own "carelessness".