New Greek PM Papademos takes on Europe's unenviable job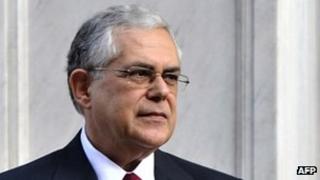 And so finally the deal is done. Lucas Papademos is to take on one of the most unenviable jobs in Europe at the moment: Prime Minister of Greece.
It comes at the end of an agonising fortnight for this country as it has lurched from one crisis to the next.
George Papandreou sealed his political fate with his disastrous announcement that a referendum would be held on Greece's latest international bailout package.
The prospect of Greeks throwing out a deal that took weeks to negotiate incensed European leaders.
As his own MPs began to desert him, he seemed on the verge of losing a knife-edge confidence vote.
Under immense pressure, he revoked the referendum and scraped through. But the high-stakes gamble he had played backfired entirely. His time in office was up.
Papademos frontrunner
After days of political wrangling between the prime minister and opposition, Mr Papandreou announced that a coalition government would be formed with a new leader.
Several names were touted but Lucas Papademos was the frontrunner.
As he flew back from the United States to Athens for last-minute meetings, speculation mounted further that he was the prime minister-in-waiting.
But then, yet more delay. Mr Papademos's candidacy faced hurdles - he wanted longer in office than the 100 days envisaged before early elections were called. And he was determined to have more control over choosing the cabinet.
Facing resistance from his own MPs to the austerity that will come with the new bailout package, the opposition leader Antonis Samaras was reluctant to adhere to an EU demand, that all parties sign a document committing themselves to approving the bailout package.
He had already verbally supported it, Mr Samaras said, there was no need for a piece of paper.
As Greeks watched, aghast at the political drama unfolding, more names were circulated, only to be withdrawn just hours later.
Power vacuum
Greece was thrown into a perilous power vacuum - George Papandreou made his farewell address but there was still no new leader.
"Sinking without a captain" was one headline here. Greeks spoke of a farce and political circus.
And then, mid-way through the fourth day of coalition talks, the final breakthrough as Lucas Papademos was officially named Greece's next leader.
The bespectacled 64-year-old seemed the strongest choice in the current climate of turmoil.
A former governor of the National Bank of Greece and vice-president of the European Central Bank, he has impressive credentials.
He is seen as a non-partisan option, above the party politics that is so paralysing here.
He is talked of by colleagues as a quiet, respected man - somebody who can steady the ship as it is buffeted by the waves of the financial crisis.
Disadvantage
He helped Greece make the transition from the drachma to the euro - something he will now hope is a one-way process, and that there will be no disastrous exit from the eurozone as Greece's financial woes worsen.
Mr Papademos will clearly have strong European support given his past experience - but that could, conversely, be a disadvantage too.
Some here feel that the EU and IMF have for too long dictated developments in Greece, demanding ever more austerity in return for bailouts, supporting George Papandreou while his popularity here sank to an all-time low and then ditching him when the time seemed right.
There will be some Greeks who see Europe's hand a little too clearly behind the appointment of Mr Papademos.
'Poisoned chalice'
The task he has is monumental. He has taken a job that many will see as a poisoned chalice: to push through more cost-cutting so that last month's bailout package for Greece can be ratified as swiftly as possible - something that the main opposition party, New Democracy, now says it would support, in a crucial change of position.
It is a race against time: until the package is approved, the country will not receive the next 8bn euro instalment of its international loan. And without that, Greece would declare bankruptcy in mid-December.
The spectre of this country defaulting on its debt is still real here and that could throw the global economy into a tailspin.
As Greeks grow ever more weary of austerity, the social unrest that has reached boiling point here is likely to continue under Lucas Papademos's premiership.
With popular anger targeting the bankers, Mr Papademos's previous roles might not be so well received among ordinary Greeks.
Sigh of relief
But perhaps, as head of a government of national unity, he can inspire the sort of cross-party support that George Papandreou lacked, and encourage Greeks to pull together to ride out the financial storm - at least for the next few months.
If this country is withholding judgement for now, there will be a sigh of relief in the corridors of power in Brussels, Paris, Berlin and beyond.
With the recent political uncertainty here, Greece has been unable to get a handle on its spiralling debt crisis which has spread far beyond its borders.
The country remains at the eye of the storm: a small, peripheral southern European nation shaking the global economy.
There will be huge pressure on Mr Papademos to try to inject confidence and stability in Greece and on the international financial markets.
'Crisis', 'chaos', 'drama': they are all words of Greek origin. An unfortunate coincidence, perhaps.
But in the weeks and months ahead, under the hand of Lucas Papademos, this country will have to find a new vernacular: calm, unity, cohesion. It will be an immense challenge.