Urgency over crisis grips Italian media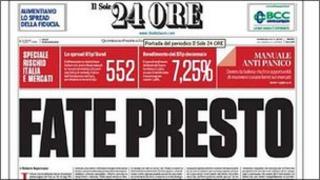 "Hurry Up" cries a huge banner headline in both the paper and online editions of Italy's leading financial daily . It urges Italy's political class to heed President Giorgio Napolitano's call on Wednesday for speedy and united action, to save the country in the face of the financial crisis gripping it.
"... Dear deputies and senators, the political responsibility falls on your shoulders to vouchsafe the country an emergency government guided by credible men who can give Italy and Italians the necessary treatment, but who can also command respect for and trust in Italy, in the wider world," says Il Sole 24 Ore.
Praise for president
A front-page editorial in top-selling daily Corriere della Sera - headlined "We can do it" - approves of the apparent endorsement by President Napolitano of former EU commissioner Mario Monti as the most likely successor to outgoing Prime Minister Silvio Berlusconi.
"[Monti's] international standing is undisputed. His compass is Europe. He is not a cold technocrat, but a passionate Italian, willing to carry out the role of civil servant without personal designs. He is a bearer of ideas, not of interests," it says.
Leading centre-left paper La Repubblica hails President Napolitano for acting decisively in the interests of the country.
"At the end of a dramatic day for our bonds and our stock market, Giorgio Napolitano has perhaps managed to ward off the danger with two perfect moves," it says.
The president's first move was to dispel any doubt that Prime Minister Silvio Berlusconi would fulfil his promise to stand down quickly. The second, it says, was the nomination of Mario Monti as a senator-for-life, thus paving the way for Monti's possible appointment as interim prime minister.
A front-page commentary in Turin's La Stampa is also full of praise for President Napolitano.
"Yesterday's dramatic events, the worst for Italy since the lira crisis of 1992, needed the strongest reply," it says.
"The President of the Republic," it goes on, "heard the message [from the markets and the world] more clearly and in better time than others did... and decided to make an extraordinary gesture, that of indicating the right man to guide the country through a situation of emergency."
BBC Monitoring selects and translates news from radio, television, press, news agencies and the internet from 150 countries in more than 70 languages. It is based in Caversham, UK, and has several bureaux abroad.