Relief and concern in press as Berlusconi decides to go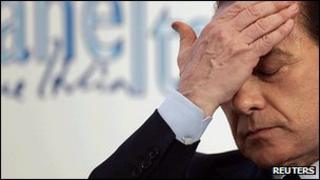 A grim-looking Silvio Berlusconi stares out from the front pages of Italy's newspapers on Wednesday, the day after he announced plans to resign as prime minister once budget reforms are passed.
Alongside news of his decision to go, most run photos of Mr Berlusconi looking serious at Tuesday's crucial parliamentary session - at which it became clear that he lacked a majority - or waving from his ministerial car afterwards, on his way to see President Giorgio Napolitano.
Most commentators express a sense of relief at Mr Berlusconi's decision to leave office but sound a notably cautious note, worried that the political uncertainty will further hurt Italy on the markets. A pro-Berlusconi paper blasts the "traitors" whom it says "knifed" the government.
"The country can still be saved if Berlusconi leaves as soon as possible," says an editorial in leading centre-left paper La Repubblica. "Italy needs an immediate authoritative government, capable of renewing the trust of the markets, the EU, and above all the country's citizens," it says.
Leading financial daily Il Sole 24 Ore urges all the country's main political players to assume a sense of responsibility and urgency equal to the task in hand. Europe and the markets "are asking for seriousness, they are demanding credibility. They no longer trust words or promises".
Top-selling daily Corriere della Sera sees Mr Berlusconi's decision to quit as "a gesture of notable responsibility, even if it could introduce a degree of temporary ambiguity that would be destructive for a country exposed to months of financial speculation".
'No more games'
Many papers carry the photo of a slip of paper which was in front of Mr Berlusconi during Wednesday's budget vote, on which the prime minister had written the vote tally of 308 and next to it "eight traitors" - a reference to the number of votes by which his government fell short of a majority.
Milan's Il Giornale, owned by the Berlusconi family, on its front page blasts the "Judases who knifed the government", running pictures of the MPs whom the government was relying on but who in the end did not vote, thus depriving it of a majority in the chamber.
A front-page commentary in the paper says that only going to the polls quickly can now save the country from possible financial ruin.
"What is certain is that the time for parliamentary games is over... [Let's go] quickly to elections, and then have a fully legitimate government that can deal with Europe," it says.
The paper remains stout in its defence of Italy's beleaguered prime minister.
"Only when Berlusconi no longer governs this country," it writes, "will we Italians be able to dimly understand that the numerous shortcomings of this government... were as nothing compared to the incapacity of Europe to deal with this crisis in time. A crisis which some today, with too much partiality, want to blame only on Berlusconi."
BBC Monitoring selects and translates news from radio, television, press, news agencies and the internet from 150 countries in more than 70 languages. It is based in Caversham, UK, and has several bureaux abroad.