Silvio Berlusconi: I will not run again in early polls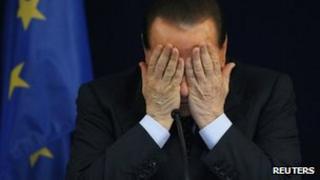 Italian PM Silvio Berlusconi says he will not stand if Italy holds early elections, after promising to resign as soon as urgent budget reforms pass.
Mr Berlusconi's party wants fresh elections but the opposition wants a national unity government.
Italy's borrowing costs have now passed 7%, a rate seen as unsustainable.
In a bid to calm markets, President Giorgio Napolitano said reforms would be passed and Mr Berlusconi would resign "within a few days".
Mr Napolitano issued a statement intended to "dispel any doubt or misunderstanding" over the timing of Mr Berlusconi's departure from office.
"Within a short time either a new government will be formed which can take any further decisions needed with the support of parliament or parliament will be dissolved and an election campaign will begin within the tightest time frame," he said.
Earlier, Mr Berlusconi said "I will resign as soon as the law is passed... I see elections being held at the beginning of February and I will not be a candidate in them," he said.
The yield on benchmark 10-year Italian bonds rose past 7% despite Mr Berlusconi's statement, which will heighten concern over whether Italy can service its debts.
The 7% level is widely viewed as unsustainable and was the point at which Portugal, Greece and Ireland were forced to seek a bailout.
After opening slightly higher on Wednesday morning, the Milan stock index closed 3.78% down, with banks suffering losses along with Mr Berlusconi's Mediaset television company.
'Difficulties ahead'
It had been expected that Italy's parliament could approve by the end of the month a package of reforms to shore up the economy, which is badly affected by the Eurozone debt crisis.
However the main opposition Democratic Party told the BBC that opposition leaders had agreed that key votes on economic measures should be taken as soon as possible, which might mean holding special parliamentary sessions over the weekend if needed.
It will only be after the budget measures are passed that the Italian president will begin consultations with the political groups on the way forward.
BBC Europe editor Gavin Hewitt, in Rome, says it is clear that political difficulties lie ahead.
And even if the present crisis ebbs, the fundamental problems remain - a country of anaemic growth and a debt mountain of 1.9tn euros (£1.63tn; $2.6tn), our correspondent adds.
Meanwhile, an EU team was due in Rome on Wednesday to begin monitoring how Italy plans to cut its soaring debt burden.
Economic Affairs Commissioner Olli Rehn said he would present the findings at the end of November, calling the situation in Italy "very worrisome".
'Subdued streets of Rome'
While Italy's deficit is relatively low, investors are concerned that the combination of Italy's low growth rate and huge debt burden could make it the next country to fall in the eurozone debt crisis.
On Tuesday the euro rose sharply against the dollar after news of Mr Berlusconi's decision, which followed a vote in parliament on the budget in which he appeared to lose his majority.
On the streets of the Italian capital, the reaction to Mr Berlusconi's announcement was subdued, our correspondent says, with many people still doubting that the flamboyant leader who has dominated Italian politics for much of the past 20 years could soon be gone.
Once Mr Berlusconi does resign, President Napolitano must begin consultations to form a new government.
It is unclear whether he would want to subject Italy - and the markets - to the uncertainty of elections, or ask the main parties to form a unity government.
Mr Berlusconi told the La Stampa newspaper that 41-year-old Angelino Alfano, his former justice minister, would be his party's candidate when Italy holds new polls.
"I won't run, actually I feel liberated... It's Alfano's turn," Berlusconi was quoted as telling the paper.
Later on Wednesday, President Napolitano named economist Mario Monti, a former European competition commissioner, as a senator-for-life.
Mr Monti has been seen as a possible head of a government of technocrats to succeed Mr Berlusconi.
Italy's EU partners have been piling on pressure for Rome to implement economic reforms.
Speaking after a meeting of EU finance ministers on Tuesday, Olli Rehn said Italy's reforms should come "the sooner the better, because time is of the essence".