New Greek coalition 'to be announced on Wednesday'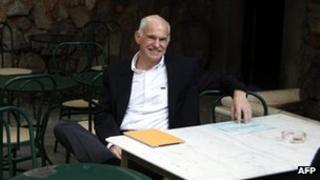 The make-up of Greece's interim government will be announced later on Wednesday, a government official says.
The announcement came as talks dragged into a third day without any apparent sign of progress.
The official said PM George Papandreou, who has agreed to step down, would meet the president in the morning before talks with party leaders.
Greece is under mounting pressure from Europe to end its political crisis and pass a key bailout package.
'Affirm commitment'
Negotiations have been taking place between Mr Papandreou and Antonis Samaras, leader of the largest opposition party New Democracy, since Monday.
It is unclear whether any agreement was made during talks on Tuesday, with some reports suggesting leaders remain undecided on who will lead the new coalition.
Reports also suggested Mr Samaras was balking at eurozone demands for a written commitment to the fiscal targets and measures demanded by the country's lenders.
Lucas Papademos, a former vice-president of the European Central Bank (ECB), was widely seen as the front-runner to replace Mr Papandreou, but there are unconfirmed reports his candidacy has run into trouble.
"The Papademos candidacy has hit problems that have to do with both parties," one of the sources told Reuters, on condition of anonymity.
Other possible candidates named in the Greek media include Nikiforos Diamandouros, Greece's European ombudsman, and Panagiotis Roumeliotis, Greece's representative to the International Monetary Fund (IMF).
On Wednesday the Athens News named another possible contender - Ioannis Koukiadis, a law professor and former Pasok labour minister.
Finance Minister Evangelos Venizelos - for a time considered to be a candidate - is expected to remain at the finance ministry.
Greece's European partners are pressing for a swift resolution.
Eurozone chief Jean-Claude Juncker has said the leaders of the two main parties must co-sign a letter reaffirming their commitment to the programme of bailouts and economic reforms before the next tranche from the first bailout - worth 8bn euros (£6.8bn; $11bn) - is handed over to Athens. Without it, Greece will run out of money within weeks.
Last month, EU leaders agreed a separate bailout deal which gives the government 130bn euros (£111bn; $178bn) and imposes a 50% write-off on private holders of Greek debts, in return for deeply unpopular austerity measures.
The agreement was however thrown into doubt after Mr Papandreou declared that he would hold a referendum on the deal, saying the Greek people should have a say.
The announcement however sparked intense criticism and he was forced to retract the idea.
On Sunday, as the fallout continued, he agreed to stand down and for a transitional government to be set up.
The first steps in forming the new government were finally announced after late-night talks on Sunday between the two men, hosted by President Karolos Papoulias.
Greece's new political roadmap envisages elections being held - possibly on 19 February - once the new government has approved an EU bailout package.